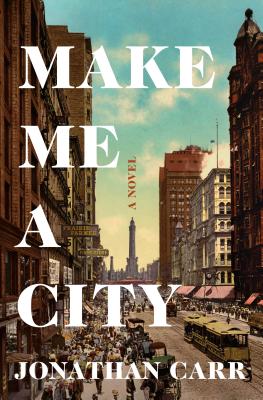 Make Me a City
A Novel
Hardcover

* Individual store prices may vary.
Other Editions of This Title:
Digital Audiobook (3/18/2019)
CD-Audio (3/19/2019)
Description
A propulsive debut of visionary scale, Make Me a City embroiders fact with fiction to tell the story of Chicago's 19th century, tracing its rise from frontier settlement to industrial colossus.

The tale begins with a game of chess—and on the outcome of that game hinges the destiny of a great city. From appalling injustice springs forth the story of Chicago, and the men and women whose resilience, avarice, and altruism combine to generate a moment of unprecedented civic energy.
A variety of irresistible voices deliver the many strands of this novel: those of Jean Baptiste Pointe de Sable, the long-unheralded founder of Chicago; John Stephen Wright, bombastic speculator and booster; and Antje Hunter, the first woman to report for the Chicago Tribune. The stories of loggers, miners, engineers, and educators teem around them and each claim the narrative in turns, sharing their grief as well as their delight.
As the characters, and their ancestors, meet and part, as their possessions pass from hand to hand, the reader realizes that Jonathan Carr commands a grand picture, one that encompasses the heartaches of everyday lives as well as the overarching ideals of what a city and a society can and should be. Make Me a City introduces us to a novelist whose talent and ambition are already fully formed.
Praise For Make Me a City: A Novel…
"Carr's kaleidoscopic debut embroiders fact with fiction to tell an alternative history of Chicago's 19th century in a symphony of voices. Using real-life historical figures, colorful stories and fictional journal entries, Carr traces Chicago's rise to an industrial titan and all-time great American city." --USA Today

Make Me a City is. . .a wondrous, bold and playful first novel. Seductively fascinating characters, real and imagined, populate this fiction with their interweaving and intergenerational stories." --The Saturday Paper
"There is much of the panache of David Mitchell's Cloud Atlas here: it is an epic story. . . .A notably rich, rewarding read." --Daily Mail Online
"Impressive...Carr effectively weaves the stories of his sprawling cast of minor and major figures to underscore the city's myriad threads of development: economic, political, social. An ambitious literary debut that occupies a liminal space between alternative history and experimental literature." --Library Journal
"The rise of Chicago in the 19th century provides the frame for a trove of colorful stories and characters in this entertaining debut novel. . . .Carr has a sure touch, and in many extended anecdotes, his narrative skills show exceptional detail, pacing, and tension. A solid storyteller enlivens a rich patch of American history." --Kirkus

"Make Me a City is a thrillingly ambitious and ingeniously accomplished first novel. This is a stunning debut by a new and instantly important literary voice." --Robert Olen Butler, Pulitzer-winning author of A Good Scent from a Strange Mountain

"Make Me a City's scope and scale is quite breathtaking. It digs deep into the history of Chicago to uncover hidden stories about the people who built the city, and its clever way of dealing with competing historical narratives is very exciting. A real pleasure to read!" --Gerard Woodward, author of Booker Prize shortlisted I'll Go to Bed at Noon
"Absolutely magnificent. Carr grasps the complexity of a city's history, the individuals who shape it, those who gain and those who suffer. The prose is graceful and vibrant, the gradual unfolding of the interrelated lives of these people is superbly done. This is an elegant, richly enjoyable book." --Tricia Wastvedt, author of The River
"Make Me a City is a multitude of novels all rolled into one — a wonderfully sprawling epic about Chicago's founding fathers (and mothers), a searching exploration of colonialism in action, and a compelling collection of stories about people and places. But it is something else too, the one thing that is known to all of us, namely a single, tender map of the human heart. In Make Me a City Jonathan Carr draws on his considerable talent to tell the story of Chicago through the eyes of its many inhabitants, exploring life, death and what is left behind with admirable deftness and style. This is a bold, thrilling debut from a seriously good writer." --Francesca Rhydderch, author of The Rice Paper Diaries
"Jonathan Carr's brilliant novel could not be more relevant to today's world. Make Me a City explores the nature of history itself — both the official record and the suppressed stories that lie beneath. Covering a century, from mid-western wilderness to the bustling modern city of Chicago, it has a correspondingly large cast, but incidents and characters are interwoven to create not just a satisfying narrative but a working model of how civilization comes into being, for better or worse. This novel itself is a city, one that contains the myriad hopes, ambitions, disappointments and loves of its citizens, as they work like coral insects to build the structure in which they live and die." --Richard Francis, author of The Old Spring and Crane Pond
Henry Holt and Co., 9781250294012, 448pp.
Publication Date: March 19, 2019
About the Author
Jonathan Carr first visited Chicago in 1983 in between periods spent living in the UK, Kenya, Gambia, Greece and Louisiana. A graduate of Cambridge University, he has worked as a travel correspondent, a book reviewer and a teacher of English. He holds a PhD in Creative Writing from Bath Spa University. Make Me a City is his first novel. He currently lives in Bologna, Italy.
or
Not Currently Available for Direct Purchase