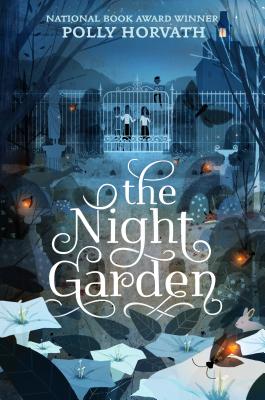 The Night Garden (Paperback)
Square Fish, 9781250294142, 304pp.
Publication Date: March 26, 2019
Other Editions of This Title:
Hardcover (9/12/2017)
* Individual store prices may vary.
Description
From Newbery Honor and National Book Award–winning author Polly Horvath comes this magical middle-grade novel about a garden that grants wishes.
It is World War II, and Franny and her parents, Sina and Old Tom, enjoy a quiet life on a farm on Vancouver Island. Franny writes, Sina sculpts, and Old Tom tends to their many gardens—including the ancient, mysterious night garden.
Their peaceful life is interrupted when their neighbor, Crying Alice, begs Sina to watch her children while she goes to visit her husband at the military base because she suspects he's up to no good. Soon after the children move in, letters arrive from their father that suggest he's about to do something to change their lives; and appearances from a stubborn young cook, UFOs, hermits, and ghosts only make life stranger. Can the forbidden night garden that supposedly grants everyone one wish help them all out of trouble? And if so, at what cost?

The Night Garden is a poignant and hilarious story from the acclaimed children's author of Everything on a Waffle.
"Horvath infuses her novel with such heart, zest, and humor in the small moments that she's created a book her devoted fan base will cherish. Notably, the denizens of Vancouver Island have a delicious lack of separation between adult and child—all are wholeheartedly curious, beautifully flawed, and deeply amusing." —Booklist, starred review
"Events glide from the domestic to offbeat to the supernatural without any friction, creating a world where anything is possible . . . [A] story of community and love and families in all their messy glory." —The Bulletin of the Center for Children's Books, starred review
About the Author
Polly Horvath has written many books for children and young adults, among them Everything on a Waffle, The Canning Season, and One Year in Coal Harbour. She has won numerous awards including a National Book Award, Newbery Honor, Toronto Dominion Award, International White Raven, and Canadian Library Association's Young Adult Book of the Year. She has also been short-listed for Germany's most prestigious literature award, the Deutscher Jugendliteraturpreis, as well as the Writer's Trust Vicky Metcalfe Award for her body of work and many others. Her books have been New York Times and Publishers Weekly bestsellers and Rosie O'Donnell and Oprah picks. She is translated into over 25 languages and her books are taught in children's literature curricula in North America and internationally. She lives in British Columbia.
Praise For The Night Garden…
"Horvath infuses her novel with such heart, zest, and humor in the small moments that she's created a book her devoted fan base will cherish. Notably, the denizens of Vancouver Island have a delicious lack of separation between adult and child—all are wholeheartedly curious, beautifully flawed, and deeply amusing." —Booklist, starred review
"Events glide from the domestic to offbeat to the supernatural without any friction, creating a world where anything is possible . . . [A] story of community and love and families in all their messy glory." —The Bulletin of the Center for Children's Books, starred review
"Horvath's bright prose and unerring sense of timing keep us turning pages to arrive at the book's final, transcendently profound, scene." —Horn Book
"The quirky characters and Franny's dry-humored narration stand out as Horvath invokes classic literary elements of orphans, secret gardens, and found families." —Publishers Weekly
"Thoughtful, hilarious, and moving; repeated readings reveal even more to appreciate in this superbly crafted tale. An essential purchase for all middle grade collections." —School Library Journal