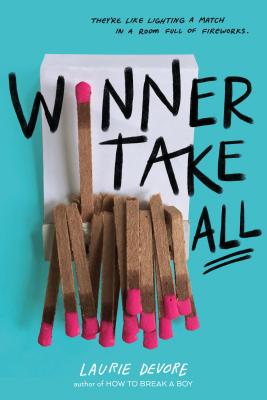 Winner Take All (Paperback)
Square Fish, 9781250294517, 336pp.
Publication Date: January 29, 2019
* Individual store prices may vary.
Description
In this edgy young adult contemporary romance, a girl plays games of the heart with the school bad boy.

For Nell Becker, life is a competition she needs to win. For Jackson Hart, everyone is a pawn in his own game. They both have everything to lose.
Nell wants to succeed at everything—school, sports, life. And victory is sweeter when it means beating Jackson Hart, the rich, privileged, undisputed king of Cedar Woods Prep Academy. Yet no matter how hard she tries, Jackson is somehow one step ahead. They're a match made in hell, but opposites do attract.
Drawn to each other by their rivalry, Nell and Jackson fall into a whirlwind romance that consumes everything in their lives. But when a devastating secret exposes their relationship as just another game, how far will Nell go to win?
Visceral and whip-smart, Laurie Devore's Winner Take All paints an unflinching portrait of obsessive love, toxic competition, and the drive for perfection.
An Imprint Book
"Devore offers an in-depth examination of the protagonists' complicated psyches and less-than-perfect home lives. Its hard-hitting message about the pressures placed on teens to succeed will be relevant to many readers." —Publishers Weekly
About the Author
Laurie Devore was born and raised in small town South Carolina and graduated from Clemson University. She now lives and works in Chicago, where she misses the charms and contradictions of the south every day. In her spare time, she reluctantly runs marathons, watches too much TV, and works a "y'all" into every conversation. She is the author of How to Break a Boy.
Praise For Winner Take All…
"Intense and fiercely smart, this volatile love story is both timely and classic." —Maurene Goo, author of I Believe in a Thing Called Love

"A bold, incisive, timely examination of the high price girls often have to pay for daring to want it all...Clever, romantic, and absolutely unputdownable." —Courtney Summers, author of Cracked up to Be and All the Rage
"Darker and weightier than many stories about rivals falling in love, Devore's second novel draws a blurry line between honest emotions and calculated moves...a hard-hitting message about the pressures placed on teens to succeed." — Publishers Weekly
"Heartbreakingly real…an unrelenting, incisive look at one young woman's highly pressurized world." —Kirkus Reviews
"A clever plot twist reveals just how quick we are to judge the behavior of girls more harshly than that of boys...A winning choice." —School Library Journal

How to Break a Boy:

"Complicated girls, beautiful writing, and drama that will keep you turning the pages until the very end." —Kody Keplinger, New York Times-bestselling author of The DUFF and Run
"Olivia's interior world is full of layers and emotional complexity, and readers will root for her to find her way." —Publishers Weekly
"A razor-sharp look at grief, betrayal, and redemption. Readers won't be able to resist Olivia." —Kara Thomas, author of The Darkest Corners