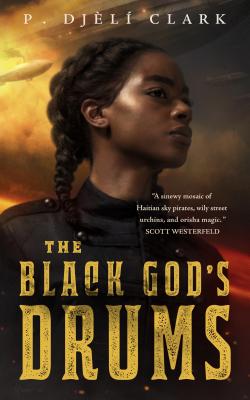 The Black God's Drums
Paperback

* Individual store prices may vary.
Description
Rising science fiction and fantasy star P. Djèlí Clark brings an alternate New Orleans of orisha, airships, and adventure to life in his immersive debut novella The Black God's Drums.

Alex Award Winner!

In an alternate New Orleans caught in the tangle of the American Civil War, the wall-scaling girl named Creeper yearns to escape the streets for the air--in particular, by earning a spot on-board the airship Midnight Robber. Creeper plans to earn Captain Ann-Marie's trust with information she discovers about a Haitian scientist and a mysterious weapon he calls The Black God's Drums.

But Creeper also has a secret herself: Oya, the African orisha of the wind and storms, speaks inside her head, and may have her own ulterior motivations.

Soon, Creeper, Oya, and the crew of the Midnight Robber are pulled into a perilous mission aimed to stop the Black God's Drums from being unleashed and wiping out the entirety of New Orleans.

"A sinewy mosaic of Haitian sky pirates, wily street urchins, and orisha magic. Beguiling and bombastic!"—New York Times bestselling author Scott Westerfeld
Praise For The Black God's Drums…
Winner of the 2019 Alex Award
Nebula Award Finalist for Best Novella

"A sinewy mosaic of Haitian sky pirates, wily street urchins, and orisha magic. Beguiling and bombastic!" —Scott Westerfeld, New York Times bestselling author

"Definitely do not miss this lightning fast romp through the steampunk bayous of an alternate New Orleans. Clark's story bleeds with style, elaborate language, and unforgettable characters who are pulled by the undercurrents of hidden gods."—Daniel H. Wilson, bestselling author of Robopocalypse and The Clockwork Dynasty

"Clark masterfully rewrites history in this spellbinding post-Civil War fantasy…. This story is thrillingly original and will enthrall fans of alternate histories." — Publishers Weekly, starred review

"This delightful novella is a breath of fresh air, and promises good things for P. Djèlí Clark's career – though I should note that he already has no mean streak in shorter fiction…. Renegade scientists, feral girls, nuns whose knowledge is this side of disturbing: Djèlí Clark creates a setting that feels vivid and alive, and populates it with interesting, complicated characters – even if we only really meet Creeper and Ann-Marie up close. The Black God's Drums is, in short, a delight. I thoroughly enjoyed it, and I'll definitely be looking up P. Djèlí Clark's other work." —Locus magazine

"International intrigue involving the Confederacy, strange science, and hoodoo magic!" —David D. Levine, author of the Andre Norton Award winning-novel Arabella of Mars

"Whether you're new to orisha magic or seasoned in the lore, Clark's retro-afrofuturistic tale will keep you engrossed in a world of airships, New Orleans, alternative history, and renegade scientists. The language and setting is so authentic you'll taste the gumbo." —Tade Thompson, author of The Murders of Molly Southbourne and the Nommo Awards-winning Rosewater

"A mesmerizing, sprawling alternate history brimming with authenticity and voice. You'll be bitterly disappointed when it's over. Clark's novella will leave you ravenous for more." —Justina Ireland, author of Dread Nation

"This mashup of history and culture has been perfectly distilled into a world fully realized and authentic. AU-THEN-TIC. Down to the sounds and tastes. Clark is a griot of the first order and The Black God's Drums is a call from the ancestors, an invitation to join in with them to celebrate story." — Maurice Broaddus, author of Buffalo Soldier and the Knights of Breton Court trilogy

"P. Djeli Clark's novella sunk its teeth into me from the first page, with a narrative voice that perfectly captures the spirit of The Crescent City. It chilled me to the bone, warmed my heart, and had me laughing out loud—sometimes all at once." –Robyn Bennis, author of the Signal Airship series

"The Black God's Drums is a must read for fans of fantasy and alternate histories alike . . . Clark has proven time and again that he's a talent to watch, and this latest offering cements him as one of the best new fantasy authors around." —Troy L. Wiggins, executive editor of FIYAH Magazine

"A superb and elegant blend of alternate history, top-shelf worldbuilding, magic, and steampunk adventure with a unique voice to tie it all together. I can't wait for more tales in this setting!" — Michael F. Haspil, author of Graveyard Shift

"The Black God's Drums is a fast paced tale of wit, wiles, and wisdom." — Curtis Craddock, author of An Alchemy of Masques and Mirrors

Tordotcom, 9781250294715, 112pp.
Publication Date: August 21, 2018
About the Author
Born in New York and raised mostly in Houston, P. DJÈLÍ CLARK spent the formative years of his life in the homeland of his parents, Trinidad and Tobago. P. Djèlí Clark is the author of the novellas The Black God's Drums, winner of a 2019 Alex Award from the American Library Association; The Haunting of Tram Car 015; and A Dead Djinn in Cairo. His short story "The Secret Lives of the Nine Negro Teeth of George Washington" (Fireside Fiction) has earned him both a Nebula and Locus award. He is loosely associated with the quarterly FIYAH: A Magazine of Black Speculative Fiction and an infrequent reviewer at Strange Horizons. He currently resides in New England and ruminates on issues of diversity in speculative fiction.