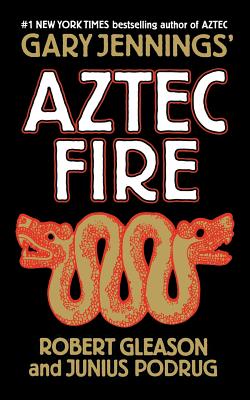 Aztec Fire (Paperback)
Forge Books, 9781250295040, 400pp.
Publication Date: June 30, 2009
Other Editions of This Title:
Paperback (6/30/2009)
* Individual store prices may vary.
Description
The Aztec uprising in 1810 left young Juan Martez orphaned in a savage land. Like many native Aztecs, Juan was sentenced to hang by the Spanish. But his life is spared when a Spanish gunmaker learns of his skills with gunpowder and buys him to make munitions.
Keeping his Aztec heritage low key, Juan becomes the finest gunmaker in the colony--and the best shot. But both talents are kept secret--if the Spanish knew of his skills, he would surely be killed. Juan secretly works the Mexican underground, running guns and black powder to guerrilla forces fighting for independence. Along the way he falls in love with Maria Volza, a fiery revolutionary stirring up the masses, but she rejects him as fallen under the Spanish boot.
But Juan's destiny is to lead the Mexicans against Spanish rule, and when Maria discovers the life Juan has hidden so well, a battle is ignited and the revolution begins.
About the Author
Gary Jennings
was known for the rigorous and intensive research behind his books, which often included hazardous travel-exploring every corner of Mexico for his Aztec novels, retracing the numerous wanderings of Marco Polo for
The Journeyers
, joining nine different circuses for
Spangle
, and roaming the Balkans for
Raptor
. Born in Buena Vista, Virginia in 1928, Jennings passed away in 1999 in Pompton Lakes, New Jersey, leaving behind a rich legacy of historical fiction and outlines for new novels.
Robert Gleason, author of End of Days, has worked for 40 years in the New York book industry, where he has published many scientists, politicians and military experts. He starred in and hosted a two-hour History Channel special, largely devoted to nuclear terrorism and has discussed the subject on many national TV/radio talk shows, including Sean Hannity's and Lou Dobbs's TV shows and George Noory's Coast to Coast AM. He has also spoken on nuclear terrorism at major universities, including Harvard.
Junius Podrug
is the author of
Frost of Heaven
,
Presumed Guilty,
and
The Disaster Survival Bible
. He has experienced two major earthquakes, a flash flood, a blizzard of historical significance, a shipboard emergency, and a crazy with a gun. He considers his paranoia to be heightened awareness and habitually checks where the life vests are stored when boarding a ship and where the fire escapes are located before unpacking in a hotel room. He lives in Cape Cod, Massachusetts.
Praise For Aztec Fire…
"Aztec Rage is the most extraordinary historical novel to appear in years. It will leave you dazed, shaken, delighted, and moved." —Douglas Preston, New York Times bestselling author of Tyrannosaur Canyon on Aztec Rage
"Fast-paced, absorbing...the authors paint a vivid picture of the early stages of hte bloody war of independence." —Publishers Weekly on Aztec Rage
"A beautifully detailed novel for historical fiction fans." —Booklist on Aztec Rage