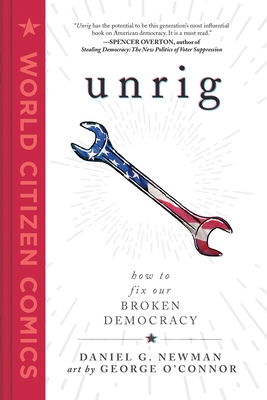 Unrig
How to Fix Our Broken Democracy (World Citizen Comics)
Hardcover

* Individual store prices may vary.
Description
An intriguing and accessible nonfiction graphic novel about the role wealth and influence play in American democracy.

Despite our immense political divisions, Americans are nearly united in our belief that something is wrong with our government: It works for the wealthy and powerful, but not for anyone else. Unrig exposes the twisted roots of our broken democracy and highlights the heroic efforts of those unrigging the system to return power to We the People.

This stirring nonfiction graphic novel by democracy reform leader Daniel G. Newman and artist George O'Connor takes readers behind the scenes—from the sweaty cubicles where senators dial corporate CEOs for dollars, to lavish retreats where billionaires boost their favored candidates, to the map rooms where lawmakers scheme to handpick their voters. Unrig also highlights surprising solutions that limit the influence of big money and redraw the lines of political power.

If you're overwhelmed by negative news and despairing for the direction of our country, Unrig is a tonic that will restore your faith and reveal the path forward to fix our broken democracy.
Praise For Unrig: How to Fix Our Broken Democracy (World Citizen Comics)…
"Dramatic and inspiring tales of champions of democracy fighting for and implementing practical solutions. It's a great read—with important lessons for any citizen who gives a damn."
—David Corn, Washington bureau chief, Mother Jones

"By clearly illustrating the toughest problems that threaten our system of government, Unrig has the potential to be this generation's most influential book on American democracy. It is a must read."
—Spencer Overton, author of Stealing Democracy: The New Politics of Voter Suppression

"Everyone knows that our democracy is broken, but what's less clear is how we got into this mess and what we should do about it. Newman's Unrig explains both in an accessible and entertaining way, leaving the reader equipped and inspired to get involved in unrigging our democracy and putting it to work for people and the planet."
—Annie Leonard, Executive Director, Greenpeace USA

"Unrig is, simply, the unmissable book... This should be required reading (and luckily, it's engaging, powerful reading) for every student and every citizen."
—Naomi Wolf, bestselling author of The Beauty Myth and The End of America

"The point of the book is not to bog you down with details; it's to inspire you to action by teaching you about ranked choice voting, clean elections, and more. And if those are things you're interested in—or interested in sharing with others—I highly recommend it." —Boing Boing

"A no-holds-barred look at the various ways wealthy interests influence and control multiple aspects of American governmental policies and institutions, Unrig is both timely and devastating to read when the country is facing a global pandemic as well as nationwide demonstrations for racial justice."—Booklist

"Unrig makes a compelling case for why our participation matters, and who controls the levers of power when we don't engage." —San Francisco Chronicle

"This cogent plea for democracy is fueled with an urgency that should initiate debate and inspire action." —Publishers Weekly

First Second, 9781250295309, 288pp.
Publication Date: July 7, 2020
About the Author
Daniel G. Newman is a national expert on government accountability and money in politics. He is President and Co-Founder of MapLight, a nonpartisan nonprofit that promotes transparency and political reform. Newman has appeared in hundreds of media outlets, including CNN, CBS, MSNBC, FOX Business News, and NPR. He lives in the San Francisco Bay Area.

World Citizen Comics' Unrig: How to Fix Our Broken Democracy, illustrated by George O'Connor, is Newman's first graphic novel.
George O'Connor
is the
New York Times–
bestselling author of the Olympians, the ongoing series of graphic novels featuring the tragic, dramatic, and epic lives of the Greek gods. George is also the creator of popular picture books such as the
New York Times
–bestselling
Kapow! and If I Had A Triceratops.
He lives in Brooklyn, New York.