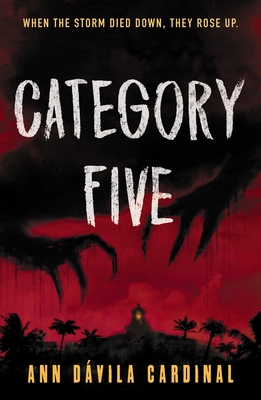 Category Five (Hardcover)
Tor Teen, 9781250296122, 240pp.
Publication Date: June 2, 2020
* Individual store prices may vary.
Description
Category Five is a new supernatural YA thriller from Ann Dávila Cardinal, set against the backdrop of a post-hurricane Puerto Rico.

After the hurricane, some see destruction and some smell blood.
The tiny island of Vieques, located just off the northeastern coast of the main island of Puerto Rico, is trying to recover after hurricane Maria, but the already battered island is now half empty. To make matters worse, as on the main island, developers have come in to buy up the land at a fraction of its worth, taking advantage of the island when it is down.
Lupe, Javier, and Marisol are back to investigate a series of murders that follow in the wake of a hurricane and in the shadow of a new supernatural threat.
About the Author
Ann Dávila Cardinal is a novelist and Director of Recruitment for Vermont College of Fine Arts (VCFA) where she also earned her MFA in Writing. She comes from a long line of Puerto Rican writers, including poets Virgilio and José Antonio Dávila, and her cousin, award-winning fiction writer Tere Dávila. Ann lives in Vermont with her husband Doug where she needle felts small reading creatures, and bikes four seasons a year. Five Midnights is her first solo novel.
Praise For Category Five…
Praise for Five Midnights
"I looooove. This novel set in Puerto Rico is inspired by a Latinx boogeyman myth.... Lupe and numerous other characters are indeed sassy AF and the narrator gets their attitudes, accents, and inflections so, so right." —BookRiot
"Five Midnights combines Puerto Rican mythology with a thrilling mystery. The members of your book club will love trying to solve this one as they read." —Bustle
"Dávila Cardinal brings both the colorful culture as well as the struggles of Puerto Rico to life.... Five Midnights is a thrilling spin on legendary source material as well as a study in identity, community, and connection. A story that lingers in sinister shadows." —Kirkus Reviews
"Five Midnights is wickedly thrilling." —William Alexander, National Book Award winner and NYT bestselling author of Goblin Secrets
"Between the threat of an enigmatic monster and an escalating murder mystery, Five Midnights is a novel that kept me up late. As much as it is a frightening, fast-paced thriller, it's also a love story. Lupe and Javier are characters I rooted for, at every dark twist and chilling turn." —Julianna Baggott, Alex Award-winning author of Pure
"Ann Dávila Cardinal's inventive Five Midnights is topical, fun, frightening, and flat-out unputdownable. You'll want to follow Lupe and Javier all over Puerto Rico. Do keep an eye out for El Cuco, though. Especially at night, and after you turn off the lights." —Paul Tremblay, author of The Cabin at the End of the World