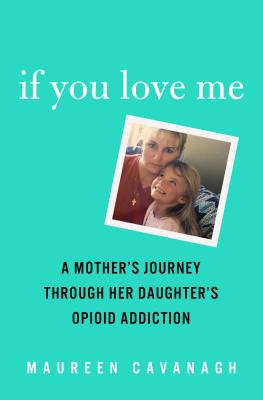 If You Love Me
A Mother's Journey Through Her Daughter's Opioid Addiction
Hardcover

* Individual store prices may vary.
Other Editions of This Title:
Digital Audiobook (9/3/2018)
Paperback (1/7/2020)
Description
Maureen Cavanagh's gripping memoir If You Love Me is the story of a mother who suddenly finds herself on the frontlines of the opioid epidemic as her daughter battles—and ultimately reckons with—substance use disorder.

Fast-paced and heartwarming, devastating and redemptive, Maureen's incredible odyssey into the opioid crisis—first as a parent, then as an advocate—is ultimately a deeply moving mother-daughter story. When Maureen and her ex-husband Mike see their daughter Katie's needle track marks for the first time, it is a complete shock. But, slowly, the drug use explains everything—Katie's constant exhaustion, erratic moods, and all those spoons that have gone missing from the house. Once Mike and Maureen get Katie into detox, Maureen goes to sleep that night hoping that in 48 hours she'll have her daughter back. It's not that simple.

Like the millions of parents and relatives all over the country—some of whom she has helped through her nonprofit organization—Maureen learns that recovery is neither straightforward nor brief. She fights to save Katie's life, breaking down doors on the seedy side of town with Mike, kidnapping Katie outside a convenience store, and battling the taboo around substance use disorder in her picturesque New England town. Maureen is launched into the shadowy world of overcrowded, for-profit rehabilitation centers that often prey on worried parents. As Katie runs away from one program after another, never outrunning her pain, Maureen realizes that even while she becomes an expert on getting countless men and women into detox and treatment centers, she remains powerless to save her own daughter. Maureen's unforgettable story brings the opioid crisis out of the shadows and into the house next door.
Praise For If You Love Me: A Mother's Journey Through Her Daughter's Opioid Addiction…
"Cavanagh has written a modern classic of healing and self-discovery. A striking memoir whose power lies in its compelling and page-turning empathy for its subjects." —Beth Macy, New York Times bestselling author of Factory Man and Dopesick

"A memoir that reads like fiction—but all the more striking because Cavanagh, neither too privileged nor too disadvantaged -- could be any one of us." —Sam Quinones, author of Dreamland

"Realizing that…the disease of addiction is more powerful than even the very strongest parent-child bond is the essence of Cavanagh's maternal 'journey,' which will offer readers facing similar struggles some useful information and, above all, the comfort of knowing that they are not alone." —The New York Times Book Review

"Cavanagh's writing is honest and straightforward, her pace fast and tone foreboding; all this makes for a page-turner that puts readers beside her on the emotional roller coaster that dealing with a loved one's substance abuse is." —Booklist

"An urgent dispatch from the front lines of the heroin epidemic by a mother who witnesses the dissolution of her honor-roll daughter; Maureen Cavanagh's riveting voice pulls you through this modern plague with honesty, humanity and, surprisingly, with humor." —Katharine Q. Seelye, The New York Times

"Maureen Cavanagh understands, at the deepest level, the terror and the helplessness that families feel as they watch their child spiral into the void. The story that she shares in If You Love Me is the story of thousands, and it is told with honesty, compassion, and fierce hope. Maureen's commitment to overcoming stigma and isolation in this book will help families for years to come." —Ruth A. Potee, MD, addictionologist

"An emotionally fraught tale of a mother's love and her actions to save her daughter from opioid addiction." —Kirkus Reviews

"Kindred spirits… will fully appreciate Cavanagh's stellar job in reassuring parents… offering subtle, in-story advice and rueful observations that make this book valuable for a parent, grandparent, friend and politician. This book deserves its spot on a growing list of books on addiction… if you need the comfort, you may want to reach for If You Love M" first." —The Guam Daily Post

"A frank and vivid portrayal of a mother's journey through the potentially grave and enduring unpredictability of a loved one's opioid addiction. An invaluable resource for suffering families as well for those wishing to understand the phenomenology of the disease of addiction and, indeed, the hope of recovery and new beginnings." —John F. Kelly, Ph.D. ABPP, Elizabeth R. Spallin Associate Professor of Psychiatry, Harvard Medical School; Director, Recovery Research Institute, Massachusetts General Hospital
Henry Holt and Co., 9781250297341, 224pp.
Publication Date: September 4, 2018
About the Author
Maureen Cavanagh is the founder of Magnolia New Beginnings, a nonprofit peer-support group for those living with or affected by substance use disorder. She has been recognized by The New York Times, CNN, and other outlets for her work fighting the opioid crisis and the stigma that surrounds it.
or
Not Currently Available for Direct Purchase