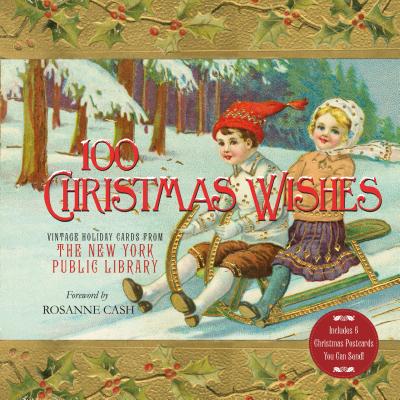 100 Christmas Wishes (Hardcover)
Vintage Holiday Cards from The New York Public Library
St. Martin's Griffin, 9781250297402, 120pp.
Publication Date: October 16, 2018
* Individual store prices may vary.
Description
A treasure trove of vintage Christmas cards, 100 Christmas Wishes is the perfect holiday treat from the New York Public Library.
Every year as the days grow shorter, amidst the holly, cookies, and carols there is another timeless holiday tradition—sending and receiving Christmas cards to and from those you love. 100 Christmas Wishes is a collection of vintage holiday cards, all from the archives of the New York Public Library. The Library houses one of the greatest collections of early Christmas postcards from around the world with thousands of cards depicting every imaginable holiday scene. Archivists selected one hundred of the best cards from the extensive collection to share in 100 Christmas Wishes. From the elegant, gilded Santa Clauses and statuesque angels, to yuletide still lifes, tumbling tots and puppies with bows round their necks, each card is a beautiful celebration of the holiday season. The book also includes six perforated postcards with reproductions of the designs so you too can share a vintage Christmas wish with friends and family on your list.
As Rosanne Cash, a patron and friend of the Library as well as a devoted fan of Christmas cards, says in her introduction "This collection of early Christmas postcards, housed for a century in the New York Public Library archives, distills those abiding wishes for the holidays from revelers from long ago and faraway, in a wish for peace, joy, magic, bounty, family, and for light to be shone 'round the world at Christmas, past and future.'"
About the Author
The New York Public Library is a free provider of education and information for the people of New York and beyond. With 92 locations—including research and branch libraries—throughout the Bronx, Manhattan, and Staten Island, the Library offers free materials, computer access, classes, exhibitions, programming and more to everyone from toddlers to scholars, and has seen record numbers of attendance and circulation in recent years. The New York Public Library serves more than 18 million patrons who come through its doors annually and millions more around the globe who use its resources. To offer this wide array of free programming, The New York Public Library relies on both public and private funding.