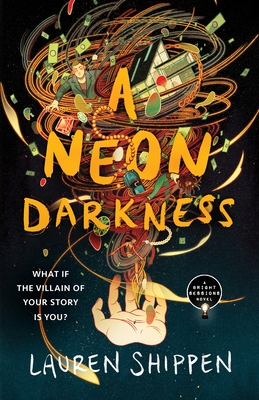 A Neon Darkness (The Bright Sessions #2) (Hardcover)
Tor Teen, 9781250297549, 256pp.
Publication Date: September 29, 2020
Other Editions of This Title:
CD-Audio (9/29/2020)
* Individual store prices may vary.
Description
A Neon Darkness, the second Bright Sessions novel from creator Lauren Shippen, asks: "What if the X-Men, instead of becoming superheroes, decided to spend some time in therapy?" (Vox)

Robert Gorham always gets what he wants. But the power of persuasion is as potent a blessing as it is a curse.

Robert is alone until a group of strangers who can do impossible things—produce flames without flint, conduct electricity with their hands, and see visions of the past—welcome him. They call themselves Unusuals and they give Robert a new name too: DAMIEN.

Finally, finally he belongs. As long as he can keep his power under control.

But control is a sacrifice he might not be willing to make.
About the Author
LAUREN SHIPPEN, author of The Infinite Noise, is a writer best known for her work in fiction podcasts. She is the creator and sole writer of the popular audio drama, The Bright Sessions. She went on to executive produce The AM Archives and co-produce Passenger List before founding Atypical Artists, a company dedicated to audio storytelling. She wrote MARVELS, an audio adaptation of the popular comic, released in 2019 by Marvel and Stitcher. Lauren was named one of Forbes's 2018 30 Under 30 in Media and one of MovieMaker Magazine's and Austin Film Festival's 25 Screenwriters to Watch. She was born in New York City and grew up in Bronxville, New York. She currently lives in Los Angeles but travels frequently to New York.
Praise For A Neon Darkness (The Bright Sessions #2)…
"A deliciously dark, genre-bending look at the thrill and danger of intoxicating power. Shippen creates a world—and a family—that you'd do just about anything to be a part of." —Charlotte Nicole Davis, author of The Good Luck Girls

"Reading this book hurt. As if under Damien's terrifying influence, I was drawn into A Neon Darkness and then, in the aftershocks, I was left questioning what I wanted and for whom and why. An unsettling tale about belonging and accountability." —K.M. Szpara, author of Docile


Praise for The Infinite Noise
"Emotional and inventive, Lauren Shippen has written a queer love story for anyone who's ever felt like an outsider. The Infinite Noise managed to make me swoon even as it broke my heart. A thoughtful and tender exploration of mental health, it will make you want to go to therapy, whether you have superpowers or not." —Britta Lundin, Riverdale screenwriter and author of Ship It

"The Infinite Noise is a marvelous book about love, mental health, and connection. Lauren Shippen writes with a clean and honest warmth that is deeply refreshing, and her sharp representation of depression and anxiety rings true. Once I started reading The Infinite Noise, I couldn't stop; now that I've read it, my life has become a matter of waiting to get my hands on whatever Shippen creates next." —Sarah Gailey, Hugo Award winning author of Magic for Liars

"Fans of the podcast will revel in this closer look at the lives of the characters, and readers new to the franchise will drop into this world without missing a beat. Give this to fans of the podcast, as well as readers who enjoy Becky Albertalli's Simon vs. the Homo Sapiens Agenda, Rainbow Rowell's work, and Welcome to Night Vale." —School Library Journal

"The author gives emotions form, texture, and color, taking readers along on Adam's and Caleb's journeys while remembering that a boyfriend is not an antidote to life's supernatural—or mundane—problems.... A warm, satisfying love story with depth." —Kirkus Reviews

"Shippen does a superb job of handling a swirl of complex emotions, ranging from subtle to fiery as the boys struggle to complete each other and share their differences." —Booklist

Praise for The Bright Sessions
"A gripping character drama with blockbuster-worthy plot twists." —The New York Times

"Created by the brilliant Lauren Shippen, The Bright Sessions is probably my number one favorite podcast right now." —Patricia Thang, Book Riot

"[The Bright Sessions] combines shades of The X-Files and the HBO psychotherapy drama In Treatment, plus the youthful characters of a WB drama like Roswell or Smallville, into one compulsively listenable tale.... A testament to the simple power of good storytelling." —Vox

"Radio dramas for the podcast age often veer towards either solid writing or engrossing performances. Rare is the show that satisfies on both fronts like The Bright Sessions.... Shippen never loses sight of the impressive character work that drives the show." —IndieWire

"Part Professor X, part Sigmund Freud, Dr. Bright has a specialty: treating 'the strange and unusual....' Start at the beginning and binge away an afternoon on Dr. Bright's couch." —WIRED