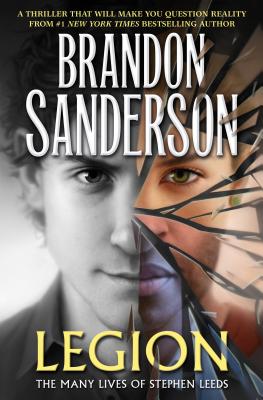 Legion
The Many Lives of Stephen Leeds
Hardcover

* Individual store prices may vary.
Other Editions of This Title:
Digital Audiobook (9/17/2018)
Mass Market (7/28/2020)
CD-Audio (9/18/2018)
Description
Legion: The Many Lives of Stephen Leeds, is #1 New York Times bestselling author Brandon Sanderson's novella collection of science fiction thrillers that will make you question reality--including a never-before-published story.

Stephen Leeds is perfectly sane. It's his hallucinations who are mad.

A genius of unrivaled aptitude, Stephen can learn any new skill, vocation, or art in a matter of hours. However, to contain all of this, his mind creates hallucinatory people—Stephen calls them aspects—to hold and manifest the information. Wherever he goes, he is joined by a team of imaginary experts to give advice, interpretation, and explanation. He uses them to solve problems . . . for a price.

His brain is getting a little crowded and the aspects have a tendency of taking on lives of their own. When a company hires him to recover stolen property—a camera that can allegedly take pictures of the past—Stephen finds himself in an adventure crossing oceans and fighting terrorists. What he discovers may upend the foundation of three major world religions—and, perhaps, give him a vital clue into the true nature of his aspects.

Legion: The Many Lives of Stephen Leeds includes Legion, Legion: Skin Deep and the brand new, shocking finale to Leeds' story, Lies of the Beholder.
Praise For Legion: The Many Lives of Stephen Leeds…
"Legion is a wonderfully clever, compelling story with a brilliant ensemble of characters that just won't leave you alone."—Suzanne Palmer, Hugo Award-winning author of The Secret Life of Bots

"Brandon Sanderson's Legion is a marvellously entertaining collection of linked stories, that build on each other to a fascinating conclusion. Stories that are so much fun, you almost need your own bunch of alternate personalities to appreciate them."—Simon R. Green, New York Times bestselling author of Night Fall

Praise for Brandon Sanderson:

"I loved this book. What else is there to say?"—Patrick Rothfuss, New York Times-bestselling author on The Way of Kings

"Highly recommended to anyone hungry for a good read." —Robin Hobb on Elantris

"[This] eagerly awaited sequel to The Way of Kings exceeds expectations. This developing epic series is a must-read for all fantasy fans." —Library Journal, starred review, for Words of Radiance

"The characterization is on the whole as meticulous as the world-building. A very impressive continuation."—Booklist, starred review, for Words of Radiance

"Brandon Sanderons's Legion are fun, fascinating, fair play puzzles; full of wild imaginings, intriguing characters who may or may not be real, and solutions you'll never see coming " —Simon R. Green, New York Times bestselling author
Tor Books, 9781250297792, 352pp.
Publication Date: September 18, 2018
About the Author
Brandon Sanderson grew up in Lincoln, Nebraska. He lives in Utah with his wife and children and teaches creative writing at Brigham Young University. He is the author of such bestsellers as the Mistborn® trilogy and its sequels, The Alloy of Law, Shadows of Self, and The Bands of Mourning; the Stormlight Archive novels The Way of Kings and Words of Radiance; and other novels, including The Rithmatist and Steelheart. In 2013, he won a Hugo Award for Best Novella for The Emperor's Soul, set in the world of his acclaimed first novel, Elantris. Additionally, he was chosen to complete Robert Jordan's Wheel of Time® sequence.