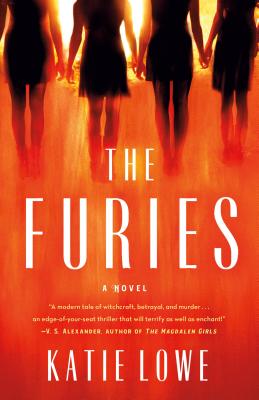 The Furies (Hardcover)
St. Martin's Press, 9781250297891, 368pp.
Publication Date: October 8, 2019
Other Editions of This Title:
Digital Audiobook (10/7/2019)
CD-Audio (10/8/2019)
* Individual store prices may vary.
Description
This page-turning, harrowing debut is the story of a girl trying to fit in, whose obsessive new friends and desperation to belong leads her to places she'd never imagined…dark, dangerous, and possibly even violent.
In 1998, a sixteen-year-old girl is found dead on her boarding school's property, dressed in white and posed on a swing, with no known cause of death. What happened to her? And what do her friends know? To find out, it is necessary to go back to the beginning.
The school is Elm Hollow Academy, an all-girl's boarding school located in a sleepy coastal town, with a long-buried grim history of 17th century witch trials. A new student, Violet, joins the school, and soon finds herself invited to become the fourth member of an advanced study group, led by the alluring and mysterious art teacher Annabel.
Annabel does her best to convince the girls that her classes aren't related to ancient rites and rituals, and that they are just mythology. But the more she tries to warn the girls off the topic, the more the girls start to believe that magic is real and that they have the power to harness it.
Violet quickly finds herself wrapped up in this addictive new world. But when she comes to learn about the disappearance of a former member of the society, one with whom Violet shares an uncanny resemblance, she begins to wonder who she can trust, all the while becoming more deeply entangled in her newfound friendships.
Was it suicide, or a foul play more sinister? How far will these young girls go to protect one another…or to destroy one another?
About the Author
KATIE LOWE has an MPhil in Literature and Modernity and a BA (Hons) in English, plus a half-completed PhD on the influence of the rise of the far-right on Franco-American literature of the 1930s-50s. In 2012, Katie started her blog, Fat Girl PhD, writing about body image, feminism and health, and finding an audience across outlets including the Guardian, Independent, and the BBC, as well as a number of media in the US, Canada and Australia.
Praise For The Furies…
"Donna Tartt's The Secret History meets Emma Cline's The Girls in this taut, intense, and unputdownable debut. Lowe's depiction of adolescent female friendships is at once unthinkably dark and uncomfortably real. The Furies will leave you breathless." —Corrine Sullivan, author of Indecent
"Katie Lowe is a magical wonder! The Furies, a modern tale of witchcraft, betrayal, and murder, combines thelinguistic pyrotechnics of Poe, the Gothic sensibilities of Daphne du Maurier, and the psychological suspense of Shirley Jackson in a disturbing, edge-of-your-seat thriller that will terrify as well as enchant!" —V. S. Alexander, author of The Magdalen Girls
"The Furies is a deliciously disturbing tale of obsession, rapture and the excesses of youth. Both fast-paced and beautifully written—rarely has a story this driven and diverting been so ecstatically told. The Furies is destined to become a book passed from paw to grateful paw. Unapologetically dark, and all the better for it, this smart, sinister novel exults in its dazzling prose and dangerous themes." —Christopher J. Yates, author of Grist Mill Road and Black Chalk
"The Furies is a haunting tale of angry, young women, the fates they hold and furies they possess. Katie Lowe steers her juggernaut through twists of madness, revenge and murder to a finish that resonates deeply. It still hasn't left me." —Peter Filardi, screenwriter of The Craft
"The Furies can be described as Prep meets The Craft, while managing to be a dark, weird creature all of its own. Witches, murder, and teenage girls - this is the book of my dreams. I am obsessed."— Louise O'Neill, author of Asking For It