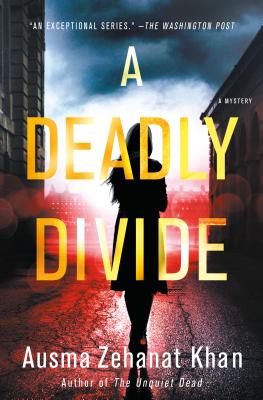 A Deadly Divide
A Mystery (Rachel Getty and Esa Khattak Novels #5)
Hardcover

* Individual store prices may vary.
Other Editions of This Title:
Digital Audiobook (2/11/2019)
Description
From the critically acclaimed author Ausma Zehanat Khan, A Deadly Divide is the devastatingly powerful new thriller featuring beloved series detectives Esa Khattak and Rachel Getty.

In the aftermath of a mass shooting at a mosque in Quebec, the local police apprehend Amadou Duchon—a young Muslim man at the scene helping the wounded—but release Etienne Roy, the local priest who was found with a weapon in his hands.
The shooting looks like a hate crime, but detectives Esa Khattak and Rachel Getty sense there is more to the story. Sent to liaise with a community in the grip of fear, they find themselves in fraught new territory, fueled by the panic and suspicion exploited by a right-wing radio host.
As Rachel and Esa grapple to stop tensions shutting the case down entirely, all the time, someone is pointing Esa in another direction, a shadowy presence who anticipates his every move.
A Deadly Divide is a piercingly observed, gripping thriller that reveals the fractures that try to tear us all apart: from the once-tight partnership between detectives Esa and Rachel, to the truth about a deeply divided nation.
Praise For A Deadly Divide: A Mystery (Rachel Getty and Esa Khattak Novels #5)…
"Relevant and heartbreakingly realistic."—Library Journal "Best Book of 2019"
"Outstanding...Khan perceptively explores who fear can quickly erupt into violence."—Publishers Weekly (Starred and Boxed)
"Khan masterfully weavers story-driving character development and pitch-perfect investigation with timely social commentary on the impact of cultural tensions."—Booklist
"Khan peoples her police procedural with believably nuanced characters to highlight the consequences of hate. The tension never lets down."—Kirkus
"Ausma Zehanat Khan's procedurals have redefined the landscape of Canadian crime writing. This is a must-read for any who believe in crime fiction as a space to both process trauma and sound the call for action."—Crime Reads, "Best Crime Books of 2019"
"Khan has established herself as one of the genre's most thoughtful practitioners. With great intelligence and sensitivity, Khan portrays the ease of online radicalization and the ways in which ideological divides cement into far more violent ones. It's a piece of fiction that manages to tell a truth even non-fiction has had trouble communicating."—Globe and Mail (Toronto)
"A Deadly Divide feels like a homecoming, but to a home that's no longer a safe space. I can't recommend this timely and urgent read enough."—LitHub
"In a fast-paced and expertly plotted mystery, Khan explores the depths of human complexity and the very human costs of hate."—Shelf Awareness
"One of my favorite procedural series…This was my favorite so far. Khan is an excellent writer who explores all the nuances in communities and social issues without creating caricatures or stereotypes."—Book Riot (A Favorite Mystery of 2019)
"A terrific suspense novel, beautifully set up and resolved."—Shawangunk Journal and Sullivan County Democrat
"Absorbing. It's tempting to turn to mysteries, where justice is generally served and conflict is brought to a resolution, when the world seems overwhelming. Ausma Zehanat Khan uses the conventions of the genre to explore the world we live in, one that badly needs more justice."—Reviewing the Evidence

Praise for A Dangerous Crossing:
"Excellent . . . Khan demonstrates a superior ability to inject moving portrayals of the individual faces of an ongoing humanitarian crisis into a suspenseful story line."—Publishers Weekly (starred)
"A complex global thriller lifted to bar-raising heights by Khan's thoughtful (and timely) exploration of the tragedies and dangers that refugees face"—Booklist (starred)
"Khan's doctorate and research in international human relations law give credence to her portrayal of a timely situation . . . This is a series well worth investigating."—Library Journal
"An exciting read . . . With gripping situations, vivid characters and intense conflicts, Khan creates a thrilling mystery."—RT BookReviews
"Khan's latest leads us on a suspenseful hunt for a missing woman and through a perilous and uncertain landscape."—LitHub
"Khan skillfully sheds light on the very human side of the war in Syria—and the rest of the world's failure to grasp that humanity. A Dangerous Crossing does an excellent job of portraying the situation in Syria in a way that will help readers recognize hard truths. Moreover, it does so while drawing them into the type of carefully woven, multi-layered mystery that has become characteristic of Khan's expert novels."—Shelf Awareness
"Khan is super talented at creating smart and thoughtful detective procedurals that also incorporate important current politics and social issues."—Book Riot
"A timely novel...This one is a superior topical nail-biter."—The Globe and Mail
"Zehanat Khan's characters are principled and compassionate, driven to serve the lost, the broken, the betrayed, and her plots explore current global issues with keen insight. The novel presents a highly personal and heartbreakingly profound view of the Syrian refugee crisis."—Milwaukee Journal-Sentinel
"This Esa Khattak and Rachel Getty series gets richer every time out."—Sullivan County Democrat

"A Dangerous Crossing is driven by mystery, but it's also poignant and complex . . . Khan does not shy from intricate global politics. A Dangerous Crossing is another gripping Esa Khattak and Rachel Getty Mystery."—Don't Need a Diagram
Praise for the Khattak and Getty series:
"An outstanding debut." New York Times
"Impressive . . . A many-faceted gem." The Washington Post
"With its thought-provoking, intelligent plot, The Language of Secrets even surpasses Khan's superb debut, The Unquiet Dead." Associated Press
"Beautiful and powerful." Publishers Weekly (starred)
"An involving mystery in a vividly portrayed setting . . . In Khan's hands, mysteries carry powerful messages." Booklist
Minotaur Books, 9781250298287, 384pp.
Publication Date: February 12, 2019
About the Author
AUSMA ZEHANAT KHAN holds a Ph.D. in International Human Rights Law with a specialization in military intervention and war crimes in the Balkans. She has practiced immigration law and taught human rights law at Northwestern University and York University. She is the former Editor in Chief of Muslim Girl magazine, the first magazine targeted to young Muslim women. Khan currently lives in Colorado with her husband. The Unquiet Dead is her first novel.