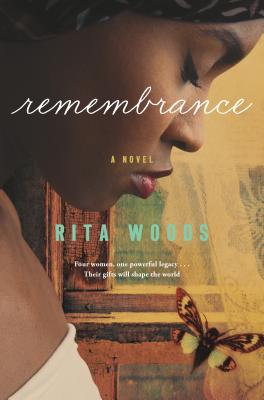 Remembrance
Hardcover

* Individual store prices may vary.
Other Editions of This Title:
Digital Audiobook (1/20/2020)
Paperback (1/26/2021)
CD-Audio (1/21/2020)
Library Binding, Large Print (1/22/2020)
Description
"Stunning. ... Family is at the core of Remembrance, the breathtaking debut novel by Rita Woods." -- The Boston Globe. This breakout historical debut with modern resonance is perfect for the many fans of The Underground Railroad and Orphan Train.

Remembrance…It's a rumor, a whisper passed in the fields and veiled behind sheets of laundry. A hidden stop on the underground road to freedom, a safe haven protected by more than secrecy…if you can make it there.

Ohio, present day. An elderly woman who is more than she seems warns against rising racism as a young nurse grapples with her life.

Haiti, 1791, on the brink of revolution. When the slave Abigail is forced from her children to take her mistress to safety, she discovers New Orleans has its own powers.

1857 New Orleans—a city of unrest: Following tragedy, house girl Margot is sold just before her promised freedom. Desperate, she escapes and chases a whisper.... Remembrance.
Praise For Remembrance…
"Stunning. ... Family is at the core of Remembrance, the breathtaking debut novel by Rita Woods." --The Boston Globe

"An ambitious, absorbing novel. ... Woods creates memorable characters in all four settings, each with a distinct purpose that helps make the impossible relatable. Remembrance is a well-researched, epic historical fantasy." -- NPR

"Woods' writing is assured, the historical settings vivid, and her characters fully realized. Hand this to fans of Yaa Gyasi's Homegoing and Octavia Butler's Kindred, who will appreciate this complex, genre-blending debut." --Booklist

"Fine attention to sensory details and brutal honesty concerning the horrors of slavery and racial relations over more than two centuries of American history make this a standout." --Publishers Weekly

"The novel's originality makes it worth reading." --Kirkus Reviews

Forge Books, 9781250298454, 416pp.
Publication Date: January 21, 2020
About the Author
RITA WOODS is a family doctor and the director of a wellness center. When she's not busy working or writing Dr. Woods spends time with her family or at the Homer Glen library where she served on the board for ten years. Remembrance is her first novel.
By Amy Clements
1. The novel opens with Gaelle's dream, evoking the tragic memory of the earthquake that destroyed her family. Discuss the memories that are woven into the novel's title, Remembrance. How is the act of remembrance passed between Gaelle's ancestors? How has remembrance been communicated from one generation to the next in your family?
2. At the beginning of Part Two, we read about the day Abigail and her sister were captured near their village in Africa. How did Abigail find the will and the courage to survive?
3. What did the novel teach you about the Haitian Revolution? If you were Hercule, would you have become a Maroon? In what ways can fiction help us understand the truth about actual historical events? In the novel and in real life, how is history repeating itself?
4. When Abigail is forced to continue her life in bondage in New Orleans, how does her world change (both her inner world and the landscape itself)? How do the techniques of oppression remain the same? How does Louisiana's culture echo Haiti's?
5. At first, Margot dismisses Veronique's offer to help her escape through the Underground Railroad. How would you have responded? Would you have trusted Ned?
6. Josiah speaks frequently about the gods and the power of the spirit world. How is that power preserved across time, and across distances of thousands of miles? Who are the novel's most powerful healers?
7. What were your theories about Gaelle's mysterious patient (Winter)? Did you perceive her as wise or dangerous?
8. When Dix asked Louisa to cut him loose in chapter 47, did you trust him? Why would he defy the slavers?
9. How were you affected by the novel's braided timeline? What is the effect of watching the characters' hopes and fears intertwine?
10. At the heart of the novel is the desperate quest for home. What does home mean to the characters? How do languages become a kind of home for them? How do you personally define "home?" What does the community of Remembrance impart to its residents?
or
Not Currently Available for Direct Purchase