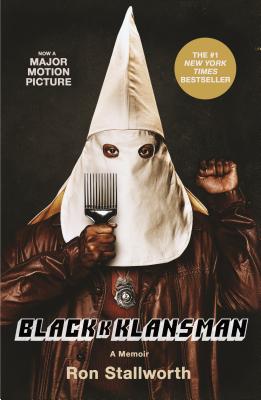 Black Klansman
Race, Hate, and the Undercover Investigation of a Lifetime
Paperback

* Individual store prices may vary.
Other Editions of This Title:
Digital Audiobook (6/4/2018)
Hardcover (6/5/2018)
Mass Market (7/31/2018)
CD-Audio (7/31/2018)
Description
The #1 New York Times Bestseller!

The extraordinary true story and basis for the Academy Award winning film BlacKkKlansman, written and directed by Spike Lee, produced by Jordan Peele, and starring John David Washington and Adam Driver.

When detective Ron Stallworth, the first black detective in the history of the Colorado Springs Police Department, comes across a classified ad in the local paper asking for all those interested in joining the Ku Klux Klan to contact a P.O. box, Detective Stallworth does his job and responds with interest, using his real name while posing as a white man. He figures he'll receive a few brochures in the mail, maybe even a magazine, and learn more about a growing terrorist threat in his community.

A few weeks later the office phone rings, and the caller asks Ron a question he thought he'd never have to answer, "Would you like to join our cause?" This is 1978, and the KKK is on the rise in the United States. Its Grand Wizard, David Duke, has made a name for himself, appearing on talk shows, and major magazine interviews preaching a "kinder" Klan that wants nothing more than to preserve a heritage, and to restore a nation to its former glory.

Ron answers the caller's question that night with a yes, launching what is surely one of the most audacious, and incredible undercover investigations in history. Ron recruits his partner Chuck to play the "white" Ron Stallworth, while Stallworth himself conducts all subsequent phone conversations. During the months-long investigation, Stallworth sabotages cross burnings, exposes white supremacists in the military, and even befriends David Duke himself.

Black Klansman is an amazing true story that reads like a crime thriller, and a searing portrait of a divided America and the extraordinary heroes who dare to fight back.
Praise For Black Klansman: Race, Hate, and the Undercover Investigation of a Lifetime…
" A fascinating memoir of an extraordinary inquiry into a recrudescent Knights of the Ku Klux Klan."
— The San Francisco Chronicle

"I was just blown away. I couldn't believe I had never heard about it. It's one of these pieces of reality that almost plays like social satire. I was immediately obsessed with this story."
-Jordan Peele in The Hollywood Reporter

"A direct, furious protest against the Trump era."
— The New York Times

"The astonishing true story of one of the riskiest undercover investigations in American history — an improbable early-'70s case in which black police detective Ron Stallworth applied for and was ultimately granted membership in the Ku Klux Klan… a compelling black empowerment story."
— Variety

"A searing look at hate groups from the inside out, as well as a captivating true story that you'll never forget."
— Bustle

"Stallworth's story is so wild you can barely believe it—but certainly not wilder than the virulent resurgence of white supremacy in this country, so extreme it goes beyond the reach of satire."
— Time Magazine
Flatiron Books, 9781250299055, 208pp.
Publication Date: July 31, 2018
About the Author
Ron Stallworth is a highly decorated, law enforcement veteran, who worked undercover narcotics, vice, criminal intelligence and organized crime beats in four states. As the first black detective in the history of the Colorado Springs Police Department, Ron overcame fierce racial hostility to achieve a long and distinguished career in law enforcement. He is the author of the memoir Black Klansman.