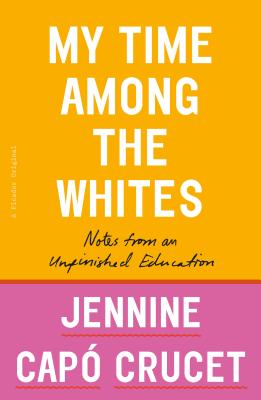 My Time Among the Whites
Notes from an Unfinished Education
Paperback

* Individual store prices may vary.
Description
From the author of Make Your Home Among Strangers, essays on being an "accidental" American—an incisive look at the edges of identity for a woman of color in a society centered on whiteness

In this sharp and candid collection of essays, critically acclaimed writer and first-generation American Jennine Capó Crucet explores the condition of finding herself a stranger in the country where she was born. Raised in Miami and the daughter of Cuban refugees, Crucet examines the political and personal contours of American identity and the physical places where those contours find themselves smashed: be it a rodeo town in Nebraska, a university campus in upstate New York, or Disney World in Florida. Crucet illuminates how she came to see her exclusion from aspects of the theoretical American Dream, despite her family's attempts to fit in with white American culture—beginning with their ill-fated plan to name her after the winner of the Miss America pageant.

In prose that is both fearless and slyly humorous, My Time Among the Whites examines the sometimes hopeful, sometimes deeply flawed ways in which many Americans have learned to adapt, exist, and—in the face of all signals saying otherwise—perhaps even thrive in a country that never imagined them here.
Praise For My Time Among the Whites: Notes from an Unfinished Education…
"My Time Among the Whites lay[s] bare the ways power and money and race and class work in America in a way that's serious but that can also be bitingly funny." —Anna North, Vox

"Remarkable.... an interrogation of the American Dream, of American myths, and the whiteness that undergirds it all. My Time Among the Whites is also a thoughtful exploration of what it means to be a first-generation college student, a child of immigrants, and a professor to boot....An exploration of what it means to be Latinx in the time of Trump." —Renee Hudson, Los Angeles Review of Books

"An excellent primer on privilege and power, and the ways in which one can be both marginalized by whiteness and benefitted by it. This is a must-read for all white Latinx, and everyone else in the U.S., too." —Christine Arreola, Bustle

"Thoughtful, deftly crafted reflections on race and identity." —Kirkus Review

"Crucet interrogates identity, assimilation, and success through the eyes of an outsider.... My Time Among The Whites explores what it means to come of age and live in a country designed to exclude you."—A.V. Club

"Crucet's well-written essays are entertaining and accessible, without letting readers or the author herself off the hook for reflecting on and addressing cultural issues. Strongly recommended for all readers."—Library Journal (starred review)

"As Jennine Capó Crucet makes clear in her provocative collection of essays, whether you are or are not white isn't the point—it's everything. If you are white, the culture that absorbs you so easily may well be taken for granted. In this country you've known little else. If you're not white, it's the depth and breadth of that white culture that either pushes you to the side or inspires you to push back. For Crucet, there's no question about which way to go, and in her exquisitely fierce way, she does."—Bookpage

"Lucid and unfeigned...Crucet's essays are hopeful, though grounded in the recognition that the social systems in place will not shift anytime soon. Sympathetic and encouraging, Crucet's observations and experiences offer a path toward learning how we can become less foreign to each other."—Booklist

"Aside from being smart and fearless when it comes to writing about her experience (or lack thereof) of the so-called American Dream, Jennine Capó Crucet is also… funny. Of course, a sense of humor is a necessary survival mechanism when navigating America's hypocritical self-mythologizing, as you quickly discover that laudatory boot-strap immigrant narratives are generally reserved for the lily white Irish ancestor. Capó Crucet's essays of her Cuban-American experience—as it occurs across the country, from Disney World to Nebraska—assert new narratives of what it means to come to this country, at once hopeful and dispiriting, infuriating and comic."—Jonny Diamond, LitHub

"The stories Crucet tells in these essays are familiar to most of us, but as something held behind our teeth that she has instead written down. Again and again in My Time Among the Whites, she untangles the one story no one tells from the other one that everyone seems to know, a high wire act where the stakes are not just her life but everyone you know. Crucet is an essential truth-teller, the whisper in your ear you should listen to, wise and funny as she tries to save your life—and this book is a triumph."—Alexander Chee, author of How to Write an Autobiographical Novel

"My Time Among the Whites is a powerful book on the American experience that is both timely and still ticking, asking the reader to continue thinking past the book's pages and toward a better country where every kind of human being has the right to belong and thrive. A funny, intimate, important and most necessary read."—Amber Tamblyn, author of Era of Ignition

Praise for Jennine Capó Crucet
"This is definitely a young writer to watch for, sassy, smart, with an unerring ear for a community's voices, its losses, its over-the-top telenovela extravagances, and its poignant struggles to understand itself in a new land."—Julia Alvarez, author of In the Time of Butterflies and Once Upon a Quinceañera

"Jennine Capó Crucet is a wonderful writer… wise and honest… furious and funny."—Lauren Groff, author of Florida and Fates and Furies
Picador, 9781250299437, 208pp.
Publication Date: September 3, 2019
About the Author
Jennine Capó Crucet is an author and contributing opinion writer for the New York Times. Her novel Make Your Home Among Strangers was a New York Times Editor's Choice book, the winner of the 2016 International Latino Book Award, and was cited as a best book of the year by NBC Latino, the Guardian, and the Miami Herald; it has been adopted as an all-campus read at over twenty-five American universities. Her short stories have been honored with the Iowa Short Fiction Award, an O. Henry Prize, and other awards. Raised in Miami, Florida, she is an associate professor in the Department of English and the Institute for Ethnic Studies at the University of Nebraska.