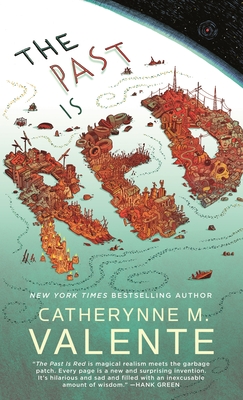 The Past Is Red
Hardcover

* Individual store prices may vary.
Other Editions of This Title:
Digital Audiobook (8/16/2021)
MP3 CD (9/21/2021)
Compact Disc (9/21/2021)
Description
"The Candide of our #@$\*%?! age."— Ken Liu, award-winning author

Catherynne M. Valente, the bestselling and award-winning creator of Space Opera and The Girl Who Circumnavigated Fairyland returns with The Past Is Red, the enchanting, dark, funny, angry story of a girl who made two terrible mistakes: she told the truth and she dared to love the world.

The future is blue. Endless blue…except for a few small places that float across the hot, drowned world left behind by long-gone fossil fuel-guzzlers. One of those patches is a magical place called Garbagetown.

Tetley Abednego is the most beloved girl in Garbagetown, but she's the only one who knows it. She's the only one who knows a lot of things: that Garbagetown is the most wonderful place in the world, that it's full of hope, that you can love someone and 66% hate them all at the same time.

But Earth is a terrible mess, hope is a fragile thing, and a lot of people are very angry with her. Then Tetley discovers a new friend, a terrible secret, and more to her world than she ever expected.
Praise For The Past Is Red…
Praise for The Past Is Red:

"The Past Is Red is magical realism meets the garbage patch. Every page is a new and surprising invention. It's hilarious and sad and filled with an inexcusable amount of wisdom."—New York Times bestselling author Hank Green

"A gorgeous, funny, melancholy, splendid romp through a post-apocalyptic wonderland in which hope and despair are indistinguishable, and the human spirit burns with the joy and rage of a thousand suns. The Candide of our #@$\*%?! age."—award-winning author Ken Liu

"This story is about as close to perfect as it gets."—Seanan McGuire, New York Times bestselling author of the Wayward Children series

"Tetley's distinctive voice and cheerful resilience in the face of misfortune make her a delightful guide through this bleak future…"—Publishers Weekly

"[The Past Is Red] is a more hopeful story than we deserve, a story where hope survives despite its fragility, and there are beautiful moments in the most unexpected corners."—Booklist

"Valente's prose presents a stark image of humanity surviving climate ruin, corporate greed, and rich escapists. Tetley's voice is engrossing, creating a read that will make readers think about our possible future."—Library Journal

"The Past Is Red achieves a scope and emotional power that lifts the tale beyond the sometimes wacky catalogs of trash and pop-cultural nostalgia that made The Future Is Blue so entertaining."—Locus Magazine

"With her trademark lyrical prose, Catherynne M. Valente takes readers to a future where the remnants of humanity live on giant islands of garbage. This novella is a pointed critique of consumer culture and also a wildly inventive ride."—Buzzfeed

"Brings joy to a future that feels bleak, and grapples with how fragile hope is... perfectly balances wit and humor with lines that made me put the book down and stare at the wall."—Katherine Nazzaro, Porter Square Books

"The Past Is Red is an electrifying parable for this era of climate change, as bitterly optimistic and cheerfully furious as this dire hour demands. All that, and its hilarious and heroic protagonist is sure to steal that gorgeous garbage patch in your chest you call a heart."—Southern Bookseller Review

"Valente turns her finely-wrought prose to a climate change apocalypse in what is sure to be an inventive take on a water world."—Den of Geek
Tordotcom, 9781250301130, 160pp.
Publication Date: July 20, 2021
About the Author
Catherynne M. Valente is the New York Times bestselling author of over two dozen works of fiction and poetry, including Palimpsest, the Orphan's Tales series, Deathless, Radiance, and the crowdfunded phenomenon The Girl Who Circumnavigated Fairyland in a Ship of Her Own Making (and the four books that followed it). She is the winner of the Andre Norton, Tiptree, Sturgeon, Eugie Foster Memorial, Mythopoeic, Rhysling, Lambda, Locus, and Hugo awards, as well as the Prix Imaginales. Valente has also been a finalist for the Nebula and World Fantasy Awards. She lives on an island off the coast of Maine with a small but growing menagerie of beasts, some of which are human.

Find out more on her website and on Twitter!