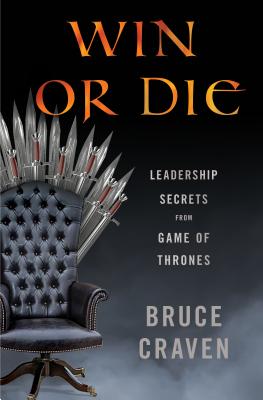 Win or Die
Leadership Secrets from Game of Thrones
Hardcover

* Individual store prices may vary.
Other Editions of This Title:
Digital Audiobook (3/18/2019)
CD-Audio (3/19/2019)
Description
"When it comes to the most-anticipated business books of 2019, Win or Die: Leadership Secrets From Game of Thrones is the one to beat."—Inc.
A guide to leading without losing your head, inspired by the bestselling books and smash television series Game of Thrones.

"When you play the game of thrones, you win or you die. There is no middle ground." —Cersei Lannister
One of the great joys of Game of Thrones is strategizing what bold moves you'd make in this bloody, volatile world—from the comfort of your living room. And one of the great terrors of being a leader is knowing your real world can be just as brutal—and offices bring no comfort.
Every day you're presented with opportunities and challenges, and must decide which roads to follow, which risks to confront, when to deny an opportunity and when to pursue the call to adventure. And you won't know whether you'll profit or fail while you're in the thick of it. In Win or Die: Leadership Secrets from Game of Thrones, Bruce Craven brilliantly analyzes the journeys of the best and worst leaders in Westeros, so that leaders can create their own narratives of success.
Craven considers beloved characters such as Ned Stark, Jon Snow, Daenerys Targaryen, and Tyrion Lannister as they make terrible decisions and fatal mistakes, but also achieve incredible victories and surprising successes, learning and growing along their (often bloody) ways. Readers will learn how to face conflict and build resilience, develop contextual and emotional intelligence, develop their vision, and more.
This entertaining and accessible guide will show readers how to turn danger into opportunity, even when dragons threaten.
Praise For Win or Die: Leadership Secrets from Game of Thrones…
"Fans of the multi-book series or HBO's adaptation will enjoy Craven's analyses of characters' personal development and motivations in strategy...Would-be senior managers looking to hone their people skills might glean more as Craven breaks down step-by-step exercises in self-advocacy, social awareness, and relationship management." —Fortune
"In C-suite roles, organizational success depends on educating your teams. Knowledge transfer is how senior executives improve overall performance. Win or Die presents a method to understand and implement proven leadership capabilities. Read it and prepare to compete. Winter is coming!"
—Barry Salzberg, former CEO, Deloitte
"Neuroscience tells us that sometimes looking at challenges through unconventional lenses can prompt higher levels of creative thinking. In this entertaining and instructive work for fans familiar with the Game of Thrones, fans are sure to experience a few 'aha' moments to help shape their own journeys."
—Rita Gunther McGrath, Professor of Management, Columbia Business School, and author of Seeing Around Corners
"Bruce Craven has extracted applicable leadership lessons from Game of Thrones, creating a masterful guide to drive business success. Win or Die is insightful, compelling and impossible to stop reading. If you face leadership battles, if winter is heading your way, read this book, go forward and win!"
—Bob Kulhan, President, Business Improv, and author of Getting to Yes, And
"Win or Die is an impressive and creative piece of work that tackles the complex realities of leadership in the 21st century. Bruce provides examples from the series to illustrate coaching, risk, politics, planning and implementation, and he dovetails characters and plot lines to help the modern leader confront day-to-day strategic and operational challenges."
—Dil Sidhu, Vice Dean of Executive Education, Columbia Business School
"Bruce brings the concepts of leadership to life. His teaching at Columbia Business School covers a wide range of styles, from the challenging to the supportive, highlighting the importance of purpose, flexibility and communication. His insights on leadership, storytelling and fiction help leaders to motivate their teams to achieve great things, building resilience, judgment and empathy."
—Antonia Romeo, Permanent Secretary at the Department of International Trade, United Kingdom
Thomas Dunne Books, 9781250301178, 304pp.
Publication Date: March 19, 2019
About the Author
BRUCE CRAVEN is Director of Columbia's Advanced Management Program, where he teaches his popular MBA/EMBA elective Leadership through Fiction. He serves as Faculty Director for executive programs with French luxury goods company KERING and with Germany's WHU Business School. He studied politics and literature at the University of California at Santa Cruz and has a MFA in Writing from Columbia University. He lives with his wife and two sons in Desert Hot Springs, California.
or
Not Currently Available for Direct Purchase