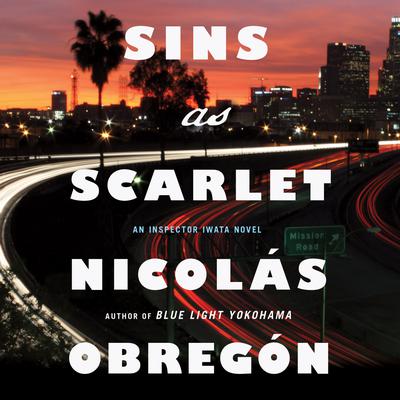 Sins as Scarlet (Digital Audiobook)
An Inspector Iwata Novel
Publication Date: December 17, 2018
Other Editions of This Title:
Hardcover (12/18/2018)
Description
"A dark, brutal ride through the underbelly of LA." —Anthony Horowitz, author of Magpie Murders
In this follow-up to Nicolás Obregon's critically acclaimed Blue Light Yokohama, Inspector Iwata returns—in a murder case in his new home of Los Angeles.
After a brutal murder investigation ripped apart his life, Kosuke Iwata quit both his job as a detective with the Tokyo Police Department and his country, leaving Japan for the hopefully sunnier shores of Los Angeles, California. But even though he's left his old life behind, he still has to make a living and Iwata sets up shop as a private investigator. But murder still follows him.
Approached by an old contact whose daughter has been murdered and the case laid to rest—unsolved—Iwata agrees to take on the case out of loyalty. But what seems initially like a cold-blooded murder takes a different turn when a homeless witness recalls the murderer's parting words: "I'm sorry."
From the depths of Skid Row to the fatal expanse of the Sonoran Desert, Iwata tracks the disparate pieces of a mysterious and heartbreaking puzzle. But the more he unearths, the clearer it is that things are not as they appear and people are not as they seem.
Lives untangle, fates converge, and blood is spilled as Inspector Iwata returns.
More Praise for Sins as Scarlet:

"Masterpiece—that's the only way to describe Sins as Scarlet. Obregón's brilliant novel is, at once, a classic noir, a psychological thriller and a riveting examination—sometimes dark, sometimes moving to the point of tears—of life in a less-than-angelic Los Angeles. And what a delight to see Inspector Kosuke Iwata back again! You will love every minute spent with this one-of-a-kind hero." — Jeffery Deaver, New York Times bestselling author of The Burial Hour

"In the heady tradition of Raymond Chandler and Michael Connelly, Sins as Scarlet lays bare the bruised heart and broken soul of Los Angeles. Extraordinary stuff: a diabolically clever police procedural, a wrenching character study, and a merciless chronicle of a city in decay. I'm awestruck." — A. J. Finn, New York Times Bestselling author of The Woman in the Window