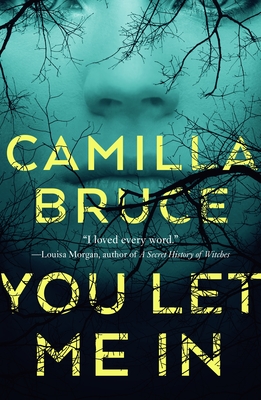 You Let Me In (Paperback)
Tor Books, 9781250302069, 272pp.
Publication Date: April 13, 2021
Other Editions of This Title:
Hardcover (4/21/2020)
* Individual store prices may vary.
Description
You Let Me In delivers a stunning tale from debut author Camilla Bruce, combining the sinister domestic atmosphere of Gillian Flynn's Sharp Objects with the otherworldly thrills of Neil Gaiman's The Ocean at the End of the Lane.

Cassandra Tipp is dead...or is she?

After all, the notorious recluse and eccentric bestselling novelist has always been prone to flights of fancy—everyone in town remembers the shocking events leading up to Cassie's infamous trial (she may have been acquitted, but the insanity defense only stretches so far).

Cassandra Tipp has left behind no body—just her massive fortune, and one final manuscript.

Then again, there are enough bodies in her past—her husband Tommy Tipp, whose mysterious disembowelment has never been solved, and a few years later, the shocking murder-suicide of her father and brother.

Cassandra Tipp will tell you a story—but it will come with a terrible price. What really happened, out there in the woods—and who has Cassie been protecting all along? Read on, if you dare...
About the Author
CAMILLA BRUCE was born in central Norway and grew up in an old forest, next to an Iron Age burial mound. She holds a master's degree in comparative literature, and has co-run a small press that published dark fairytales. Camilla currently lives in Trondheim with her son and cat. You Let Me In is her first novel.
Praise For You Let Me In…
"You Let Me In is a bewitching, beguiling, and deeply unsettling tale of one woman's strange life. It will ensnare you from page one and keep you riveted until the end." —Caitlin Starling, author of The Luminous Dead

"You Let Me In is a dark, delicious confection of a novel, a tour-de-force of the unreliable narrator—or is it? Either way—I loved every word." —Louisa Morgan, author of The Secret History of Witches

"This book is an exquisite rarity... nicely original and authentically folkloric: creepy, detailed, entrancing." —Joanne Harris, internationally bestselling author

"Haunting, and harrowing, You Let Me In is the kind of fairy tale that keeps you up at night because the monsters are real. I couldn't look away." —Alix Harrow, Hugo award-winning author

"You Let Me In is a relentless, heartbreaking exploration of isolation, grooming, and the cycles of abuse that pursue the vulnerable. The Pepper Man is terrifying on levels that will stay with you long after you've put the book down, crawled into bed, closed your eyes, and told yourself that everything is going to be okay."—Sarah Gailey, author of Magic For Liars

"Readers will find themselves engrossed on a wild trip to a parallel, earthly dimension…masterful…an enthralling story, a genre-blender that perplexes…Neil Gaiman fans are a ready audience for this superb debut, but also suggest it to any patron who's ready for something astonishingly different." —Booklist, starred review

"The suspense builds as the truth about Tipp's past and present emerges slowly and incrementally… Bruce is especially good at raising goosebumps. Fans of Sarah Pinborough will welcome this new talent." —Publishers Weekly, starred review