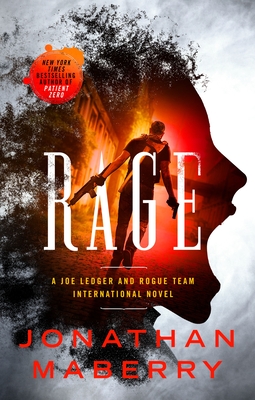 Rage (Paperback)
A Joe Ledger and Rogue Team International Novel (Rogue Team International Series #1)
St. Martin's Griffin, 9781250303578, 464pp.
Publication Date: November 5, 2019
* Individual store prices may vary.
Description
From New York Times Bestselling author (creator of the Netflix series V Wars), Jonathan Maberry comes the first in a brand new series featuring Joe Ledger and Rogue Team International.

A small island off the coast of Korea is torn apart by a bioweapon that drives everyone—men, women, and children—insane with murderous rage. The people behind the attack want Korea reunified or destroyed. No middle ground. No mercy. Soon Japan, China, and the United States are pushed to the brink of war, while terrorists threaten to release the rage bioweapon in a way of pure destructive slaughter. Joe Ledger leads his newly formed band of international troubleshooters in their first mission to stop the terror cell, fighting alongside agents from North and South Korea. With the lives of billions at stake, Ledger is willing to bring his own brand of terror to this frightening new war.
About the Author
JONATHAN MABERRY is a New York Times bestselling and multiple Bram Stoker Award-winning author of Deep Silence, Kill Switch, Predator One, Code Zero, Fall of Night, Patient Zero, the Pine Deep Trilogy, The Wolfman, Zombie CSU, and They Bite, among others. His V-Wars series has been adapted by Netflix, and his work for Marvel Comics includes The Punisher, Wolverine, DoomWar, Marvel Zombie Return and Black Panther. His Joe Ledger series has been optioned for television.
Praise For Rage: A Joe Ledger and Rogue Team International Novel (Rogue Team International Series #1)…
"Rage is not for the faint-hearted as your heart will be in your throat during the non-stop action that Jonathan Maberry has created. Bringing Joe Ledger to the international scene, Maberry has started a new chapter for his protagonist, raising the bar for a thriller series that was already one of the best in the business!" -Criminal Element

"The book is action-packed from the first page to the last." -mysterysequels.com

"Maberry has done it again." -Suspense Magazine

"If you want a smart story, dripping in testosterone. The type that leans smarts over brawn, until brawn is needed. That and if you like kernels of horror in your espionage. You should grab RAGE and thank me later." -Ain't It Cool News