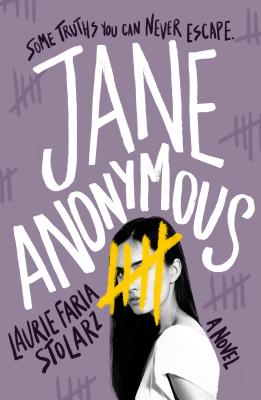 Jane Anonymous
A Novel
Hardcover

* Individual store prices may vary.
Description
Now adapted as a fiction podcast series from FictionZ and Apple, starring Mina Sindwall (Lost in Space)!

Bestselling author Laurie Faria Stolarz's thrilling novel Jane Anonymous is a revelatory confessional of a seventeen-year-old girl's fight to escape a kidnapper—and her struggles to connect with loved ones and a life that no longer exists.

Seven months.

That's how long I was kept captive.

Locked in a room with a bed, refrigerator, and adjoining bathroom, I was instructed to eat, bathe, and behave. I received meals, laundered clothes, and toiletries through a cat door, never knowing if it was day or night. The last time I saw the face of my abductor was when he dragged me fighting from the trunk of his car. My only solace was Mason—one of the other kidnapped teens—and our pact to one day escape together. But when that day finally came, I had to leave him behind.

Now that I'm home, my parents and friends want everything to be like it was before I left. But they don't understand that dining out and shopping trips can't heal what's broken inside me. I barely leave my bedroom. Therapists are clueless and condescending. So I start my own form of therapy—but writing about my experience awakens uncomfortable memories, ones that should've stayed buried.

When I ask the detectives assigned to my case about Mason, I get an answer I don't believe—that there were no traces of any other kidnapped kids. But I distinctly remember the screams, holding hands with Mason through a hole in my wall, and sharing a chocolate bar. I don't believe he wasn't really there and I'm determined to find him. How far will I have to go to uncover the truth of what happened—and will it break me forever?
Praise For Jane Anonymous: A Novel…
YALSA 2021 Best Fiction for Young Adults Nominee
YALSA 2021 Quick Picks for Reluctant Readers
YALSA 2021 Amazing Audiobooks Nominee
TLA 2021 TAYSHAS Pick
2022 MASL Gateway Readers Award Nominee
2021 South Carolina Young Adult Book Award Nominee
New England Book Awards 2020 Finalist
Kirkus 2020 Best Young Adult Books of the Year

"Stolarz ups the psychological ante...the depth of psychological intrigue is absorbing, and the twist on Stockholm syndrome disturbing...this novel is a testament to how the mind can reshape reality in order to survive...Powerfully graphic." - Kirkus, Starred Review

"A story about lingering trauma, loss, and the journey toward healing, this gripping crime novel could be a documentary from the Investigation Discovery channel. A must-read." - School Library Journal

"This engrossing confessional is both heartbreaking and hopeful." - Booklist

"A brave and bold piece of fiction. Jane Anonymous is riveting. It will scare you, intrigue you, and keep you up reading way too late." - C.C. Hunter, New York Times bestselling author

"An engrossingly tense yet tender story that digs deep. Jane Anonymous isn't your average thriller, it's full of heart and determination." - Tiffany D. Jackson, author of Let Me Hear a Rhyme and Monday's Not Coming

"Thrilling, captivating, and compulsively readable."—Leila Sales, author of This Song Will Save Your Life

"A timely, suspenseful tale of trauma and its aftereffects – of how you can never go home again and how the things you remember are just as important as the things you don't. Readers will devour each page like a trail of breadcrumbs left by Stolarz all the way up until the book's twisty end. There is nothing anonymous about Jane – she is all of us." -Tonya Hurley New York Times bestselling author of the ghostgirl series and The Blessed Trilogy.

"It's no surprise that Laurie Faria Stolarz has delivered another taut, potent page-turner, replete with shivers and plenty of twists. But with Jane Anonymous, she ratchets up the tension and digs deep, offering the reader a nuanced reflection on identity, memory, and intimacy that grabs hold and doesn't let go." - Micol Ostow, internationally bestselling author of The Devil and Winnie Flynn and Riverdale: The Day Before

"Jane Anonymous is equal parts terrifying and heartbreaking. I couldn't stop thinking about it. I'm STILL thinking about it." —Stacey Kade, author of Finding Felicity and The Ghost and the Goth

"Jane Anonymous is a haunting, horrifying tale I won't soon forget. Jane grabbed me from the first page and still refuses to let go." - Cyn Balog, Author of Alone and That Night
Wednesday Books, 9781250303707, 320pp.
Publication Date: January 7, 2020
About the Author
Laurie Faria Stolarz is the author of several popular young adult novels including the Dark House series, the Touch series, Project 17, Shutter, and Bleed, as well as the bestselling Blue is for Nightmares series. With over a million books sold worldwide, Stolarz's titles have been translated into thirty languages, been named on numerous award lists, including the Quick Pick for Reluctant Readers list and the Top Ten Teen Pick list, both through the American Library Association, and have been optioned for TV.