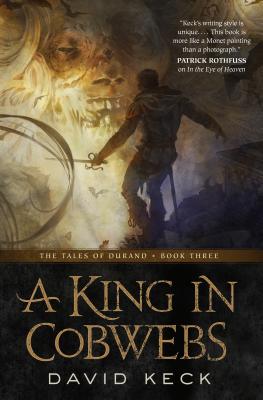 A King in Cobwebs (Hardcover)
The Tales of Durand, Book Three
Tor Books, 9781250303974, 448pp.
Publication Date: December 4, 2018
Other Editions of This Title:
Paperback (12/4/2018)
* Individual store prices may vary.
Description
"A gritty, medieval fantasy full of enchantment" (Publishers Weekly), David Keck's epic Tales of Durand trilogy concludes with A King in Cobwebs
Once a landless second son, Durand has sold his sword to both vicious and noble men and been party to appalling acts of murder as well as self-sacrificing heroism. Now the champion of the Duke of Gireth, Durand's past has caught up with him.
The land is at the mercy of a paranoid king who has become unfit to rule. As rebellion sparks in a conquered duchy, the final bond holding back the Banished break, unleashing their nightmarish evil on the innocents of the kingdom.
In his final battle against the Banished, Durand comes face to face with the whispering darkness responsible for it all—the king in cobwebs.
About the Author
A native of Canada, David Keck lives in New York City with his wife, the editor and novelist Ann Groell. His books include In the Eye of Heaven and In a Time of Treason.
Praise For A King in Cobwebs: The Tales of Durand, Book Three…
"A clever and hauntingly grim fantasy."—New York Journal of Books, on A King in Cobwebs
"Human politics and dreadful foes are combined in this tale that stands with the very best fantasies."—Publishers Weekly, starred review, on A King in Cobwebs
"Deftly told…. A gritty medieval fantasy full of enchantment." —Publishers Weekly (starred review) on In the Eye of Heaven
"Keck has a unique writing style that relies heavily on impression over exposition, a trait allowing him to make common rabbits a thing of pure dread. All in all, it makes for a good fantasy yarn that sports a dreamlike and emotive quality which is a cornerstone of the fantasy genre."—Electric Review
"A powerful and assured debut." —Jacqueline Carey, bestselling author of Kushiel's Dart, on In the Eye of Heaven
"The debut of an exceptional series, revealing the mythical depth and resonance possible within the genre of fantasy--a rare feat these days." —Steven Erikson on In the Eye of Heaven
"A very intelligent book, with a hero who starts out as raw and physical as the world in which he finds himself but who proves able to use his mind to get out of the situations his body's gotten him into." —David Drake on In the Eye of Heaven