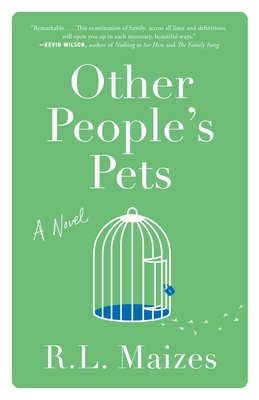 Other People's Pets
A Novel
Paperback

* Individual store prices may vary.
Other Editions of This Title:
Digital Audiobook (7/13/2020)
Hardcover (7/14/2020)
Description
• 2021 Colorado Book Awards Winner •

R.L. Maizes's Other People's Pets examines the gap between the families we're born into and those we create, and the danger that holding on to a troubled past may rob us of the future.

La La Fine relates to animals better than she does to other people. Abandoned by a mother who never wanted a family, raised by a locksmith-turned-thief father, La La looks to pets when it feels like the rest of the world conspires against her.

La La's world stops being whole when her mother, who never wanted a child, abandons her twice. First, when La La falls through thin ice on a skating trip, and again when the accusations of "unfit mother" feel too close to true. Left alone with her father—a locksmith by trade, and a thief in reality—La La is denied a regular life. She becomes her father's accomplice, calming the watchdog while he strips families of their most precious belongings.

When her father's luck runs out and he is arrested for burglary, everything La La has painstakingly built unravels. In her fourth year of veterinary school, she is forced to drop out, leaving school to pay for her father's legal fees the only way she knows how—robbing homes once again.

As an animal empath, she rationalizes her theft by focusing on houses with pets whose maladies only she can sense and caring for them before leaving with the family's valuables. The news reports a puzzled police force—searching for a thief who left behind medicine for the dog, water for the parrot, or food for the hamster.

Desperate to compensate for new and old losses, La La continues to rob homes, but it's a strategy that ultimately will fail her.
Praise For Other People's Pets: A Novel…
"While reading R.L. Maizes' Other People's Pets, I could not stop saying, as La La mouths to herself at one point, remarkable. Every time the novel opened up yet again to reveal some new depth, much like La La and her ability to experience the emotions of the animals around her, I worried how the novel could hold such wonder without bursting, could control the pain and joy of this remarkable story. But Maizes possesses such magic. This examination of family, across all lines and definitions, will open you up in such necessary, beautiful ways."
—Kevin Wilson, author of Nothing to See Here and The Family Fang

"Maizes' enjoyable first novel, following the story collection We Love Anderson Cooper (2019), is creative, intriguing, and filled with lively, likeable characters."
—Booklist

"This debut novel brings to life a wholly original, deeply charming, and seriously flawed character whose enormous heart leads her into a mess of trouble. A beguiling tale that will make readers want to leap into the pages...."
—The Library Journal, STARRED Review

"Maizes keeps the narrative anchored in reality, with believable details about the mechanics of a burglar's life and a large cast of well-rounded characters. This is a beguiling twist on the familiar formula of breaking unhealthy bonds with the past."
—Publishers Weekly

"While its quirky combination of fictional elements and adroit, deadpan writing give the novel a wryly comedic atmosphere, La La's story is melancholy and moving. An uncanny, appealing blend of suspense, irony, tragedy, and how-to for lock-picking, burgling, and ankle monitor removal."
—Kirkus

One of Library Journals Best Debuts of Summer/Fall 2020

"Other People's Pets," with its lively voice and unexpected characters, makes a perfect addition to anyone's summer reading pile, but it is required for those who understand that coming of age has absolutely nothing to do with age."
—Washington Post

"What constitutes a good mother? A good father? A good daughter? A normal life? These are questions posed by R.L. Maizes in her compelling debut novel Other People's Pets."
—Lilith

"R.L. Maizes' novel conjures up a young woman who relates more to dogs than to people, and when not in veterinary school, spends her time burglarizing homes with her locksmith-gonif father Zev… sounds farfetched, to say the least, but Maizes… brings this unusual story to vivid life." I found myself caring deeply about the characters, even the two-legged ones, and unable to put the book down."
—Jewish Week

"Other People's Pets uses humor, pathos and just a touch of magic to unpack the meaning of family — the family we're born with and the family we create."
—Boulder Weekly

"An absorbing debut novel, one often quite difficult to put down…. In Other People's Pets, R.L. Maizes, with a rich storyline that's only slightly fantastical, adroitly addresses our own (hyper)reality of fact and fiction, illness and wellness, desperation and hope, love and loss."
—Masters Review
Celadon Books, 9781250304162, 304pp.
Publication Date: July 6, 2021
About the Author
R.L. Maizes's novel, OTHER PEOPLE'S PETS (Celadon Books, Macmillan), is a Colorado Book Award Winner and a Library Journal Best Debut of Summer/Fall 2020. She is the author of the short story collection WE LOVE ANDERSON COOPER (Celadon Books). Her stories have aired on National Public Radio, and can be found in Electric Literature's Recommended Reading and in The Best Small Fictions 2020. Maizes's essays have been published in The New York Times, The Washington Post, O Magazine, and Literary Hub and have aired on NPR. Her humor articles have run in The New York Times and in McSweeney's Internet Tendency. Maizes was born in Queens, New York, and lives in Boulder County, CO.
or
Not Currently Available for Direct Purchase