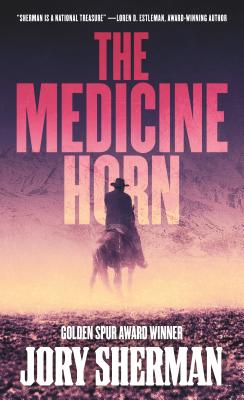 The Medicine Horn (Mass Market)
A Mountain Man Tale of the American Frontier (A Buckskinners Novel)
Forge Books, 9781250305060, 288pp.
Publication Date: September 25, 2018
* Individual store prices may vary.
Description
Jory Sherman's Golden Spur Award-winning novel, The Medicine Horn, is a tumultuous tale of America's violent frontier and of one lone Mountain Man who fought his foe like a mountain lion.
From the frontier South to the brawling, bawdy streets of still-French St. Louis and awesome grandeur of the high plains, Lem Hawke was the greatest of the Big Sky Mountain Men. He lived hard, loved hard, and when he fought, it was war to the knife. Whether he battled Native Americans, rivermen or outlaws, it was always the same: He never backed up and he never backed down.
The Medicine Horn is the story of his life, loves, and violent wars—an epic tale of the Old West as big as the frontier and as rugged as the men and women who made it their own.
About the Author
JORY SHERMAN is the Spur Award-winning author of numerous novels, including Grass Kingdom, Song of the Cheyenne, Horne's Law, and Winter of the Wolf. He received the Owen Wister Award for Lifetime Contributions to Western Literature in 2013.
Praise For The Medicine Horn: A Mountain Man Tale of the American Frontier (A Buckskinners Novel)…
"Read The Medicine Horn and see a gifted writer at the top of his craft." —Dale Walker, Rocky Mountain News
"[A] master storyteller." —Richard S. Wheeler, Spur Award-winning author of the Skye's West series
"To read the poetry of [Sherman's] prose is to be transported bodily to the wind-lashed plains and blue-iced peaks of Sherman country." —Loren D. Estleman, award-winning author of The Long High Noon
"A highly skilled, always dependable storyteller." —El Paso Herald-Post
"Among. . . novelists of the Old American West, Jory Sherman has no peer for powerful, poetic storytelling." —Dale Walker, Rocky Mountain News
"Lush prose and minutely detailed action." —Library Journal