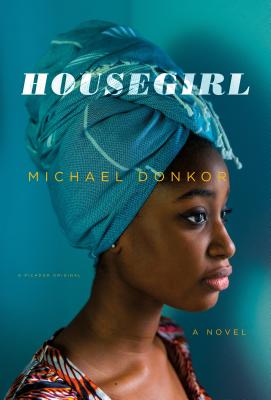 Housegirl
A Novel
Paperback

* Individual store prices may vary.
Other Editions of This Title:
Digital Audiobook (8/27/2018)
Library Binding, Large Print (9/5/2018)
Description
Shortlisted for the Desmond Elliott Prize • Longlisted for the Dylan Thomas Prize • Nominated for the Edinburgh First Book Award • One of The Observer's "New Faces of Fiction" • One of The Millions' "Most Anticipated Books of the Year" • One of The Guardian's "Best Summer Books" (Selected by Kayo Chingonyi and Joe Dunthorne) • One of Library Journal's "Most Anticipated Fall Debuts" • One of The Observer's Best Books of the Year • An NPR "Staff Pick" and One of the NPR Book Concierge's "Best Books of the Year"

A Go On Girl! Book Club Selection

"Immensely readable...A refreshing story about coming of age in spite of conflicting ideas of what 'growing up' means."—Buzzfeed (The Best Books of Fall)

A moving and unexpectedly funny exploration of friendship and family, shame and forgiveness, Michael Donkor's debut novel follows three adolescent girls grappling with a shared experience: the joys and sorrows of growing up.

Belinda knows how to follow the rules. As a housegirl, she has learned the right way to polish water glasses, to wash and fold a hundred handkerchiefs, and to keep a tight lid on memories of the village she left behind when she came to Kumasi.

Mary is still learning the rules. Eleven-years-old and irrepressible, the young housegirl-in-training is the little sister Belinda never had.

Amma has had enough of the rules. A straight-A student at her exclusive London school, she has always been the pride of her Ghanaian parents—until now. Watching their once-confident teenager grow sullen and wayward, they decide that sensible Belinda is the shining example Amma needs.

So Belinda must leave Mary behind as she is summoned from Ghana to London, where she tries to impose order on her unsettling new world. As summer turns to autumn, Belinda and Amma are surprised to discover common ground. But when the cracks in their defenses open up, the secrets they have both been holding tightly threaten to seep out.
Praise For Housegirl: A Novel…
"I hate novels because too often, I know exactly where the story is heading, where the characters are heading. I loved Housegirl because Michael Donkor's storytelling and character building were so exquisite...Two days after I finished the book, I found myself actually missing [them]. This is a rare accomplishment."—Melissa Gray, NPR's Book Concierge (Staff Pick, Our Guide to 2018's Great Reads)

"Immensely readable...A refreshing story about coming of age in spite of conflicting ideas of what 'growing up' means."—Buzzfeed (The Best Books of Fall)

"Housegirl engages intimately with the nuances of female friendship...[A] beautiful coming-of-age story."—The Root

"The friendship that gradually develops between Belinda and Amma is very persuasively observed—an intimacy forged through drunken, unsupervised house parties in the long summer after A-levels; wilful misbehaviour at dressy Ghanaian expat gatherings; and backs-to-the-wall standoffs with hostile Jamaican girls on the bus down Coldharbour Lane… Donkor's principal achievement is the dignity and generosity of spirit with which he imbues a central character from a largely invisible seam of African society."—Alfred Hickling, The Guardian

"Housegirl is refreshing in its tender focus: the interior life of Belinda, and the relationship she forges with Amma…The novel charts its own course, bucking the tradition of immigrant literature in which a character's distance from 'home' is measured in either loss of homegrown prestige or access to Western (and it is always Western) opportunity…[I]mpressive both in form and scope."—Hanna Giorgis, The Atlantic

"At times, there are flashes of Jane Eyre in Belinda's role as a 'governess' of sorts, but there is no Mr. Rochester to save her from her life, nor a sugary ending. The focus is on the love that flows between women and the need for Belinda to find a place that feels like home…(A) warm and accomplished novel."—Arifa Akbar, The Observer

"A young writer in Britain to watch…[Donkor's] novel is terrific."—Kerri Miller, MPR News

"[Housegirl] is about the power of women and the love that surrounds them, however it's perceived...if it's a clear indication of what Donkor has to tell us, future stories from this writer just might be the challenging texts we need."—PopMatters (A PopMatters Pick)

"Donkor's debut novel concerns itself with those who don't traditionally get much of a look-in when it comes to fiction: two Ghanaian housegirls… A warm and intelligent story,offering full-bodied characters and a fortifying examination of courage."—The Mail on Sunday

"Donkor's dense descriptions of life in Ghana and London capture the dazzling disorientation of a young village girl on her own. Compelling female characters abound; it's surprising to discover a young male writer who so successfully inhabits a female point of view."—Reba Leiding, Library Journal (starred review)

"Confident and illuminating...An intimate and resonant take on finding one's place in the world even while being pulled in opposing directions."—Kirkus Reviews

"[Donkor's] captivating characters quickly draw the reader in, and the ending is pleasingly open-ended, allowing the reader to continue imagining the lives of the girls after the novel is finished. Full of secrets and heartache, this is an excellent coming-of-age novel."—Publishers Weekly

"Michael Donkor is a real talent, and Housegirl is a brave, unpredictable and generous-hearted novel."—Sarah Winman, author of Tin Man

"Both moving and funny, a big-hearted book that will stay with you."—The Guardian (Best Fiction for 2018)

"An arresting and textured novel...[Donkor] has a gift for succinct, piercing description: through Belinda's eyes, the exotic (Ghana) becomes familiar, and the familiar (London) becomes exotic."—The Observer (The New Faces of Fiction)

"Wondrous...[Housegirl] is beautifully formed and heart-rending in all the right ways."—Press Association

"A beautiful novel. A deeply engrossing, elegant tapestry of family and friendship from a stirring new voice."
—Irenosen Okojie, author of Butterfly Fish

"There's much to love in Michael Donker's debut novel. He has an eye for acute observations coupled with a gift for pitch-perfect metaphors that are joyful to read. But it's the emotional truths he unearths from the inner lives of three disparate women that make the novel stand up and sing. Housegirl is a powerful and important work of fiction."—Courttia Newland, author of The Gospel According to Cane
Picador, 9781250305176, 320pp.
Publication Date: August 28, 2018
About the Author
Michael Donkor was born in London, to Ghanaian parents. He studied English at Wadham College at the University of Oxford, undertook a masters in creative writering at Royal Holloway, and now teaches English literature to secondary school students. In 2014, his writing won him a place on the Writers' Centre Norwich Inspires Scheme, where he received a year's mentoring from Daniel Hahn. Housegirl is his first novel, and many of the issues in it are close to his heart.
1. The preservation and garnering of material wealth is highly valued by the communities in the novel. Scenes from Aunty and Uncle's mansion, Nana and the Doctor's home, the party at the Yeboah's, and Mary's funeral are laced with visceral images of decoration, food, and showy displays. How would you characterize Belinda's relationship with such things?
2. The novel is written in a third-person limited perspective. Each chapter focuses on either Belinda or Amma. How might your understanding of the characters shift if Donkor had written in first-person? What kinds of information might be revealed or, alternately, obscured?
3. Characters in the novel explore different capacities for imagination. For example, Amma creates art, Belinda weaves herself stories and studies literature, and Belinda teaches Mary to inhabit a make-believe character. What function does power of imagination serve, particularly in helping these women face their hardships and traumas? How do their imaginations pair with rationality as a problem-solving skill?
4. Amma's queerness, her artistic ability, and her intellect all set her apart from those around her. She must constantly decide whether to conform to expectations or defy them, although each relationship offers her unique safe spaces. What does she value in her relationships with Belinda, Nana, Roisin, Helena and her other friends and family?
5. Consider instances of art in the novel. Amma reminisces on Alexander Calder sculptures, Belinda takes a literature course, Belinda sends Amma a Jack Gilbert poem, Amma draws, and at the end of the novel, even Belinda begins to draw. How do the women grow and develop from their encounters with art?
6. As a child, Belinda had to learn how to care for her mother and was subsequently sent away to work as a domestic servant in both Ghana and London. Housework is a coping mechanism she slowly grows independent from. What catalyzes this change? What other forms of caretaking, nurturing and intimacy occur in the novel, and when do they fail to suffice?
7. Belinda's phone calls with Mary are the main connective tissue between Britain and Ghana after Belinda moves. What makes her so hesitant to share her new life with Mary? What makes London different from home? What things stay the same?
8. At one point, Belinda thinks about "This bad behavior, badness, sickness, strangeness in the blood, handed down from mother to daughter" (168). Think about the characters' individual histories and the roles those histories play in their daily lives. Are they shaped by their circumstances, or do they fight circumstances?
9. The scene of Mary's vivid funeral—and the events leading up to it—accounts for the majority of the end of the novel. How does Donkor's writing style in these chapters relay the stream of emotion Belinda encounters during it all? Does she embrace or reject the traditions?
10. Belinda's relationship to her mother undergoes a shift over the course of the novel. What is it that makes her decide to go back to her hometown of Aderabaa at the end? What does she have to gain or lose from seeing her mother again?
Coverage from NPR
or
Not Currently Available for Direct Purchase