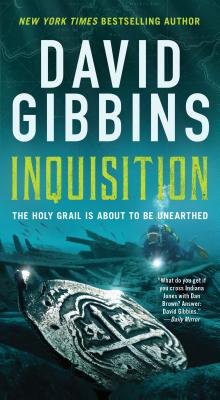 Inquisition (Jack Howard #10) (Mass Market)
St. Martin's Paperbacks, 9781250305718, 400pp.
Publication Date: March 26, 2019
* Individual store prices may vary.
Description
The latest Jack Howard thriller from marine archaeologist and internationally bestselling mastermind David Gibbins.

The Holy Grail is about to be unearthed. . .

258
As the blood of martyred Christians runs through Rome's catacombs, Pope Sixtus entrusts their most sacred object to a devoted follower. Soon after, the Holy Grail disappears into the darkness of time.
1684
While overseeing the evacuation of the English colony of Tangier, Samuel Pepys attempts to retrieve a treasure which has resurfaced after more than a thousand years. Meanwhile, a Jewish merchant is tortured by the Altamanus, a secret group determined to locate the Grail.

Present Day
A wreck off the Cornish coast reveals clues to a mystery that marine archaeologist Jack Howard had thought beyond solving. He embarks on an epic quest that takes him to the sunken ruins of the pirate city of Port Royal in Jamaica. But the specter of the deadly Inquisition dogs his every step, and Jack must face a descent into hell itself if he is to uncover the greatest reward in Christendom.
About the Author
DAVID GIBBINS is the internationally bestselling author of the Jack Howard novels, which have sold over three million copies worldwide and are published in thirty languages, and the Total War series of historical novels.
Gibbins has worked in underwater archaeology all his professional life. After taking a PhD from Cambridge University he taught archaeology in Britain and abroad, and is a world authority on ancient shipwrecks and sunken cities. He has led numerous expeditions to investigate underwater sites in the Mediterranean and around the world. He currently divides his time between fieldwork, England and Canada.
Praise For Inquisition (Jack Howard #10)…
"A sophisticated plot lifts bestseller Gibbins's superior 10th thriller featuring archeologist Jack Howard.... Steve Berry fans eager for an intelligent blend of suspense and reality, including some horrific contemporary developments, will be rewarded." —Publishers Weekly (starred review)