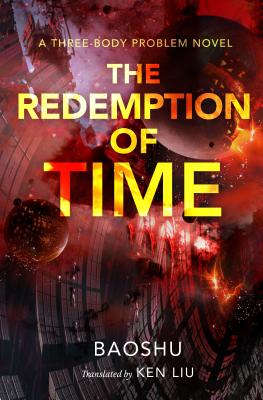 The Redemption of Time (Hardcover)
A Three-Body Problem Novel (Remembrance of Earth's Past #4)
Tor Books, 9781250306029, 272pp.
Publication Date: July 16, 2019
Other Editions of This Title:
Paperback (8/4/2020)
* Individual store prices may vary.
Description
Set in the universe of the New York Times bestselling Three-Body Problem trilogy, The Redemption of Time continues Cixin Liu's multi-award-winning science fiction saga. This original story by Baoshu—published with Liu's support—envisions the aftermath of the conflict between humanity and the extraterrestrial Trisolarans.

In the midst of an interstellar war, Yun Tianming found himself on the front lines. Riddled with cancer, he chose to end his life, only to find himself flash frozen and launched into space where the Trisolaran First Fleet awaited. Captured and tortured beyond endurance for decades, Yun eventually succumbed to helping the aliens subjugate humanity in order to save Earth from complete destruction.

Granted a healthy clone body by the Trisolarans, Yun has spent his very long life in exile as a traitor to the human race. Nearing the end of his existence at last, he suddenly receives another reprieve—and another regeneration. A consciousness calling itself The Spirit has recruited him to wage battle against an entity that threatens the existence of the entire universe. But Yun refuses to be a pawn again and makes his own plans to save humanity's future…
About the Author
Baoshu is a Chinese science fiction and fantasy writer. After receiving his Master of Philosophy in Peking University, Baoshu continued to study at Katholieke Universiteit Leuven and got a second masters there, and finally became a full-time science fiction writer in 2012.

His previous books include What Has Passed Shall in Kinder Light Appear, Garuda, Ruins of Time and Maharoga.
Ken Liu's fiction has appeared in
F&SF
,
Asimov's
,
Analog
,
Strange Horizons
,
Lightspeed
, and
Clarkesworld
, among other places. He is the author of
The Grace of Kings
, and has won a Nebula, two Hugos, a World Fantasy Award, and a Science Fiction & Fantasy Translation Award, and been nominated for the Sturgeon and the Locus Awards. He edited and translated the Chinese science fiction anthology
Invisible Planets
. He lives near Boston with his family.
Praise For The Redemption of Time: A Three-Body Problem Novel (Remembrance of Earth's Past #4)…
"The Redemption of Time is not a mere derivative of The Three Body Problem, but a thrilling, fascinating new adventure to uncover more mysteries of the Three Body World. " —Pan Haitian

"This cosmic Romeo and Juliet story takes a welcome journey back to Liu's fictional universe (with the master's blessing)." -- Publishers Weekly 'Summer Staff Picks'

"Mind-bendingly fantastic." -- SF in Translation

"...bring[s] to mind the creation story in J.R.R. Tolkien's The Silmarillion. The universe-engulfing struggle recalls John C. Wright's astonishing multibook Eschaton saga. And the whole has a transcendental quality that might earn a nod from William Blake." -- Kirkus

"The Redemption of Time reveals that everything becomes a part of a fairy tale in the end; yet, this fairy tale has to carry the ultimate meaning of life and the universe." —Han Song

"A highly imaginative alternate world within the bounds of Liu Cixin's creation.... encapsulates the bountifulness and timeless beauty of the universe." —Liu Waitong