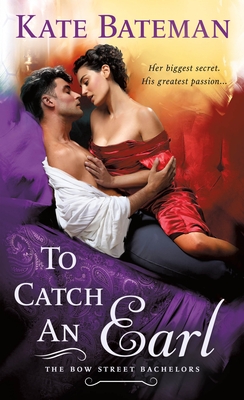 To Catch an Earl (Mass Market)
A Bow Street Bachelors Novel
St. Martin's Paperbacks, 9781250306111, 336pp.
Publication Date: June 30, 2020
* Individual store prices may vary.
Description
Kate Bateman's To Catch an Earl continues her historical Regency Romance Bow Street Bachelors series.

Working undercover for London's first official police force, the Bow Street Bachelors have an obligation to serve the city's best interests—even while they're falling for the city's most alluring women…

SHE KNOWS HOW TO STEAL A KISS.

Alex Harland, Earl of Melton and dedicated rake, never pictured himself as an agent of inquiry. But the thrill of investigation is a challenge he now embraces. When he's asked to pursue the Nightjar, a notorious thief who is reclaiming France's crown jewels, the case throws him into the path of the beautiful and equally elusive Emmy Danvers, reminding him of the only puzzle he's never solved: the identity of the mysterious woman who once stole a kiss from him—and left him wanting so much more…

WILL HE SURRENDER HIS HEART?

The daughter of a thief, Emmy learned long ago how to keep her secrets safeguarded—and, as the notorious Nightjar, her love for Alex Harland is one of them. With the determined earl hot on her trail—and making her hot under the collar—Emmy has no choice but to keep her distance. But when a moment's danger threatens Emmy's life as well as her name, will Alex finally discover that he's followed every clue…to true love?

"Full of intense emotions and dramatic twists….Future installments will be eagerly anticipated by Regency readers."—Publishers Weekly (starred review) on This Earl of Mine
About the Author
Kate Bateman, (also writing as K. C. Bateman), is the #1 bestselling author of Regency, Victorian, and Renaissance historical romances, including the Secrets & Spies series: To Steal a Heart, A Raven's Heart and A Counterfeit Heart. All her books feature her favorite feisty, intelligent heroines (badasses in bodices!), wickedly inappropriate banter, and sexy, snarky heroes you want to both strangle and kiss.

Kate wrote her first historical romance in response to a $1 bet with her husband who rashly claimed she'd 'never finish the thing.' She gleefully proved him wrong. When not traveling to exotic locations 'for research', she leads a not-so-secret double life as a fine art appraiser and on-screen antiques expert for several TV shows in the UK, each of which has up to 2.5 million viewers. She splits her time between Illinois and her native England, and writes despite three inexhaustible children and that number-loving husband who still owes her that dollar.
Praise For To Catch an Earl: A Bow Street Bachelors Novel…
"An alluring cat-and-mouse tale between two deserving adversaries. For Regency romance fans wishing for thrills in their to-be-read list." - Library Journal

"Bateman loads her fast-paced heist with fun secret identity hijinks, clever characters, and sizzling romance. Series fans and new readers alike will be thrilled." - Publishers Weekly

"To Catch an Earl is a fun, fast-paced read with lots of sexual tension and capers a-plenty. It's been one of my favorite books so far this year and I highly recommend it." - Smart Bitches, Trashy Books

Praise for THIS EARL OF MINE:

"Bateman's scintillating first Bow Street Bachelors Regency is full of intense emotions and dramatic twists. Intelligent, affable characters make this fast-paced novel shine, especially for fans of clever women and the men who sincerely admire them. Future installments will be eagerly anticipated by Regency readers." -- Publishers Weekly (Starred Review) on This Earl of Mine

"Dashing, daring, and deliciously romantic!" -- USA Today bestselling author Caroline Linden on This Earl of Mine

"Delicious, witty, and ripping good fun! Kate Bateman's writing sparkles." -- USA Today bestselling author Laura Lee Guhrke on This Earl of Mine

"A riveting new voice for Regency readers! Kate Bateman is now on my auto-buy list." -- Janna MacGregor, author of The Good, the Bad, and the Duke on This Earl of Mine