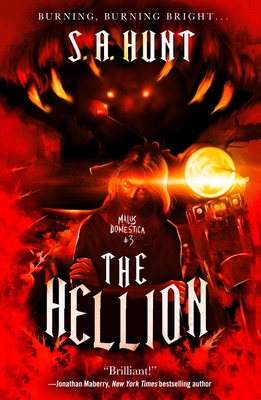 The Hellion (Paperback)
Malus Domestica #3
Tor Books, 9781250306517, 400pp.
Publication Date: September 15, 2020
Other Editions of This Title:
Hardcover (9/15/2020)
* Individual store prices may vary.
Description
For fans of Chilling Adventures of Sabrina and Stranger Things: S. A. Hunt's The Hellion, third installment of their horror-tinged action-adventure series about a punk YouTuber on a mission to hunt down the supernatural, one vid at a time

Robin Martine has destroyed witches all across the country, but since her confrontation with the demon Andras, Robin has had to deal with her toughest adversary yet: herself. While coming to grips with new abilities, she and her boyfriend Kenway make their way to the deserts of rural Texas, where new opportunities await.

Something lurks in this isolated town of Keystone Hills: a dangerous gang ruled by a husband who wields an iron fist over his wife and daughter. Robin vows to protect these Latina women from harm, but may be underestimating how powerful Santiago Valenzuela is... and how his shapeshifting powers may pose a threat to everyone Robin holds dear.

The Malus Domestica series
#1: Burn the Dark
#2: I Come with Knives
#3: The Hellion
About the Author
S. A. HUNT (they/them) is the author of Amazon Top 10 Horror novel Malus Domestica, and the award-winning Outlaw King fantasy series. In 2005 they joined the Army and became Military Police, where they were awarded a Joint Services Achievement Medal for their efforts in Afghanistan. They currently live in Petoskey, Michigan.
Praise For The Hellion: Malus Domestica #3…
Praise for Burn the Dark:

"Burn the Dark is a brilliant debut! S. A. Hunt gets everything right about the creepier aspects 21st digital culture and presents a compelling and memorable female lead." —Jonathan Maberry, New York Times bestselling author of V-Wars and Glimpse

"S.A. Hunt is a kickass storyteller conquering the zone between fantasy and horror. Keep an eye on this one, because they're just getting started." —New York Times bestselling author Chuck Wendig

"S. A. Hunt's Burn the Night is a bold, sharp, fresh take on urban fantasy that brings it into the 21 century. The characters feel real and their flaws make them beautiful. The world building is impressive and immersive, the prose is sharp and tight, and the scary is damn scary. It's a lot of fun!" —R. S. Belcher, author of Brotherhood of the Wheel and M. I. B. International (novelization)

"Immaculate worldbuilding drives this atmospheric series opener from Hunt (Law of the Wolf).....Joined by a cast of diverse, thoughtfully written characters, Robin returns to her hometown of Blackfield, Ga., to kill the coven responsible for her mother's death, but the Red Lord intervenes, and Robin discovers that the circumstances surrounding the crime are far more complex than she knew. With a detailed setting and an ear for dialogue, Hunt captures a distinct feeling of Southern Americana. The cliff-hanger ending is sure to leave readers eager for the next installment." —Publishers Weekly

"Hunt supplies each character with snappy dialogue and situates the action in a Southern Gothic setting evocative of other supernatural series, such as Charlaine Harris' Sookie Stackhouse books. Robin is a distinctly modern new heroine, combining classic tropes with twenty-first-century methods. She might be the only hunter in literature to keep her passive income stream in mind while shooting B-roll on the way to confront witches, which is likely to delight readers looking for a new twist in their horror picks."—Booklist