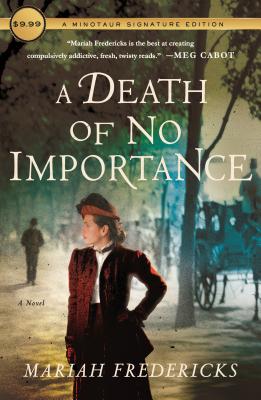 A Death of No Importance
A Novel (A Jane Prescott Novel #1)
Paperback

* Individual store prices may vary.
Other Editions of This Title:
Digital Audiobook (4/9/2018)
Description
"A taut, suspenseful, and complex murder mystery with gorgeous period detail."—Susan Elia MacNeal

Through her exquisite prose, sharp observation and deft plotting, Mariah Fredericks invites us into the heart of a changing New York in her remarkable debut adult novel, A Death of No Importance.

New York City, 1910. Invisible until she's needed, Jane Prescott has perfected the art of serving as a ladies' maid to the city's upper echelons. When she takes up a position with the Benchley family, dismissed by the city's elite as "new money", Jane realizes that while she may not have financial privilege, she has a power they do not—she understands the rules of high society. The Benchleys cause further outrage when their daughter Charlotte becomes engaged to notorious playboy Norrie, the son of the eminent Newsome family.

But when Norrie is found murdered at a party, Jane discovers she is uniquely positioned—she's a woman no one sees, but who witnesses everything; who possesses no social power, but that of fierce intellect—and therefore has the tools to solve his murder. There are many with grudges to bear: from the family Norrie was supposed to marry into, to the survivors of a tragic accident in a mine owned by the Newsomes, to the rising anarchists who are sick of those born into wealth getting away with anything they want. Jane also knows that in both high society and the city's underbelly, morals can become cheap in the wrong hands: scandal and violence simmer just beneath the surface—and can break out at any time.
Praise For A Death of No Importance: A Novel (A Jane Prescott Novel #1)…
One of Marie Claire's "13 Best Beach Reads of All Time"
A Library Journal Best Book of 2018!

"Murder in the ranks of high society provides heady entertainment for the servants who toil in obscurity in A Death of No Importance, a lively upstairs/downstairs mystery by Mariah Fredericks set in New York City in 1910."—New York Times Book Review

"A sparkling mystery . . . The novel's voice, plotting, pace, characterization, and historical background are all expertly crafted, while the resolution—which feels both surprising and convincing—will leave readers hungry for more."—Publishers Weekly (starred)

"Jane is an appealing amateur sleuth . . . With its vivid depiction of contrasting worlds this series debut should appeal to readers of Alyssa Maxwell's 'Gilded Age' historical mysteries."—Library Journal (starred)

"Deftly woven...[An] intricate historical mystery and pointed commentary on human nature."—Booklist

"The prewar world of New York City in 1910 comes to life through the colorful social settings and real historical events...[a] debut adult novel with period details and strong characterizations."—BookPage

"A deliciously intriguing peek at 1910 New York. A well-plotted mystery with a plucky amateur sleuth—and an ending that could promise more cases for Jane to solve in the future!"—RT Book Reviews

"A wonderfully vivid debut...a well-told and memorable story, impossible to put down."—Mystery Scene Magazine

"A really good read for fans of historical fiction—the character had a great voice that sucked me in immediately."—Book Riot

"A highly engaging read...satisfying."—BookBrowse

"Another deftly crafted novel by an author with a genuine flair for originality and a total master of the mystery genre, A Death of No Importance by Mariah Fredericks is certain to be an immediate and enduringly popular addition to community library Mystery/Suspense collections."—The Midwest Book Review

"A Death of No Importance has such rich historic detail that you feel as if you've been transported to early twentieth century New York. Mariah Fredericks is the best at creating compulsively addictive, fresh, twisty reads."—Meg Cabot

"Mariah Fredericks' A Death of No Importance is told by a young and reticent—but gimlet-eyed—ladies' maid. She's employed by an Edith Wharton-esque New York City family, but after the murder of a young cad who was engaged to her mistress, she's drawn into the police investigation. Crossing social class lines and making tart observations, she succeeds at both finding the murderer and keeping secrets. Fredericks has written a taut, suspenseful, and complex murder mystery with gorgeous period detail."—Susan Elia MacNeal

"A sharp, engaging, and intimate treat of a historical mystery. Jane Prescott is a smart detective and a keen observer of both the upper crust and the dark underbelly of early twentieth century New York society."—Laura Joh Rowland

"The simmering tensions among New York City's wealthiest families—the rivalries, lies, and even the criminal acts—come to a boil in A Death of No Importance, and Jane, a highly intelligent young maid, is the one who sees more than she should the night that someone from the smart set is viciously murdered. A suspenseful, moving, sharply observed mystery that illuminates a fascinating time in America's history, when there was indeed ugliness beneath the beauty of the Gilded Age."—Nancy Bilyeau

"Extremely difficult to put down and satisfying. This is a wonderful first foray into historical mystery fiction for Ms. Fredericks. I can't wait to read more."—Aunt Agatha's

"A compelling story of a maid in 910 New York City. A murder in the Gilded Age circle reverberates in ways no one could have imagined."—The Big Thrill

"Honed by years of service to the wealthy, Jane [Prescott] has a talent for staying unnoticed while noticing everything. This appealing series debut is the first adult mystery by the Edgar-nominated Young Adult author."—Stop You're Killing Me

"Told with exquisite details of the city and life among the rich and their hired help. I heartily recommend this book."—Historical Novel Society
Minotaur Books, 9781250306555, 320pp.
Publication Date: March 12, 2019
About the Author
MARIAH FREDERICKS was born and raised in New York City, where she still lives with her family. She is the author of several YA novels. A Death of No Importance is her first adult novel.