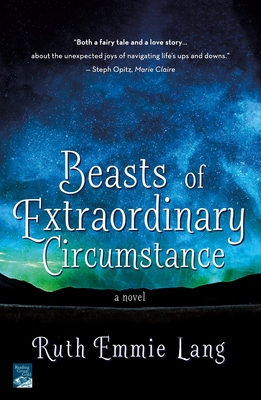 Beasts of Extraordinary Circumstance
A Novel
Paperback

* Individual store prices may vary.
Other Editions of This Title:
Digital Audiobook (11/13/2017)
MP3 CD (11/14/2017)
Compact Disc (11/14/2017)
Description
Full of nature and wonder, love and adventure, Beasts of Extraordinary Circumstance is a beautifully written novel that "bristles with charm and curiosity" (Winston Groom, New York Times bestselling author of Forrest Gump).

Born in a blizzard, orphaned, and believed to be raised by wolves, Weylyn Grey is someone who inspires endless curiosity in everyone he's ever met. People say that once Weylyn wanders into your world, you'll wish he'd never leave. But what makes him different? How does he possess the ability to transform others' lives? How does he manage to find—and create—magic in the ordinary? This is the story of Weylyn's journey, told from the perspective of those who knew him, loved him, or were bewildered by him along the way. In this stunning and deeply imaginative debut, author Ruth Emmie Lang introduces us to a character who will live in readers' hearts long after the last page is turned.
Praise For Beasts of Extraordinary Circumstance: A Novel…
"This tale feels comfortable and familiar, imitating Lewis Carroll's casual, everyday description of magic and starring a sympathetic, mature boy with Peter Pan-like abilities. Original and imaginative, especially in its multifaceted exploration of one extraordinary person, Lang's novel is a lovely and fascinating feat of magical realism." —Booklist

"This enchanting title mixes magical realism with romance, humor, and adventure, delighting readers who enjoy strong fantasy populated with quirky characters and events." —Library Journal

"Weylyn Grey is enchanting.... Each bittersweet story shows our capacity to accept people who are different." —Real Simple magazine

"This exquisite and adventurous book will remind you of classic fantasies that you read as a child." —Bustle

"Beasts of Extraordinary Circumstance by debut author Ruth Emmie Lang will grab you by the hand and thrust you into a world complete with animal whisperers, supernatural occurrences, and people who search their whole lives to find what's right in front of them." —Book Reporter

"Ruth Emmie Lang's debut glitters with the glow of fireflies, explodes with the force of fantastically strange events and warms with the love of a man who has so much possibility contained within him it overflows in miraculous ways. Skeptics who shun magic on page one of Beasts of Extraordinary Circumstance will be converts by the end." —Shelf Awareness

"I read this book on the first of September and it has stayed with me all month. The story is whimsical and gorgeous. The writing is just beautiful. And it made me smile the entire time." —Kate Krug, Book Riot

"This wonderful, whimsical, warm-hearted novel is filled with subtle and not-so-subtle nods to the books I loved as a child.... Reading this book is so comfortable and uplifting, you almost feel as if you could conjure a herd of fireflies to get through a power outage, or a field of daffodils to celebrate a loved one's birthday. Beasts is exactly the book I needed right now, and it made me so happy I wanted to howl at the moon." —Steph Opitz, Book of the Month judge

"Ruth Emmie Lang's prose has the earthy warmth of a campfire story, best enjoyed in the woods and under the stars. Her contemporary spin on the American folktale, Beasts of Extraordinary Circumstance, bristles with charm and curiosity, and its oddball hero, Weylyn Grey, will make you want to follow him into the forest."—Winston Groom, New York Times bestselling author of Forrest Gump

"A wholly original and superbly crafted work of art, Beasts of Extraordinary Circumstance is a masterpiece of the imagination. Intelligent, witty, and brave, Ruth Emmie Lang takes us on an uplifting and unforgettable adventure of love, magic, friendship and fate. An extraordinary work of fiction by a truly gifted author. "— Lori Nelson Spielman, New York Times bestselling author of The Life List and Sweet Forgiveness

"Ruth Emmie Lang dazzles with her inventive and magical debut. Told with brains and heart, Beasts of Extraordinary Circumstance introduces a protagonist who is both mythical and relatable. Weylyn Grey leaves a lasting impression on everyone he meets, and he will on readers too."—Michelle Gable, New York Times bestselling author of A Paris Apartment and I'll See You in Paris

"Beasts of Extraordinary Circumstance is a brilliant button on the coat of American magical realism. Think Charlotte's Web for grown-ups who, like Weylyn Grey, have their own stories of being different, feared, brave, and loved." —Mo Daviau, author of Every Anxious Wave
St. Martin's Griffin, 9781250306661, 368pp.
Publication Date: December 4, 2018
About the Author
Ruth Emmie Lang was born in Glasgow, Scotland and has the red hair to prove it. When she was four years old, she immigrated to Ohio where she has lived ever since. She has since lost her Scottish accent, but still has the hair. Ruth currently lives in Cleveland, Ohio with her husband and dreams of someday owning a little house in the woods where she can write more books. Her first novel, Beasts of Extraordinary Circumstance, was a finalist for the Ohioana Book Award.
1. Weylyn's story is told through the perspectives of the people he meets throughout his life. In your opinion, was this an effective way to tell Weylyn's story? Did you feel like you got a chance to know him or did you wish you had more chapters from his point of view?
2. Weylyn's powers allow him to affect parts of the natural world. If you could have a power that affects the natural world, what would it be and why? What possible repercussions could there be for using said power?
3. On page 163, Mary says "Without beauty, we'd be bored. Without science, we'd be dead." Do you share her sentiment? How significant a role do you think beauty—or more specifically, the arts, literature, and the natural world—plays in our lives?
4. Many of the characters in Beasts are missing some form of human connection in their lives. Do you think this feeling is universal? Do people inherently need other people to be happy and fulfilled?
5. Weylyn spent much of his childhood with wolves, but in many ways, he defies the stereotype of the withdrawn "feral" child. Why do you think the author chose to write him this way? In what ways could his upbringing have contributed to his gregariousness?
6. On page 315, Weylyn writes, "My wolf brothers and sisters have a saying (or a howl) that goes, 'Don't leave anything you can't come back to.'" Do you think it's possible to pick up where you left off with a loved one after many years have passed? If you were in Lydia's or Mary's shoes, would you haven forgiven Weylyn for disappearing?
7. What does the title, Beasts of Extraordinary Circumstance, mean to you?
8. Many of the narrators in the book don't fit in socially with their peers. Even Weylyn, to an extent, wants to find a place where he can belong. To what degree, if any, should we change ourselves to fit in?
9. In chapter 61, Mary notices a far-off look in Weylyn's eyes. They are torn between the home they've created for themselves and the need for adventure. Which would you choose? Cozying up at home or exploring a new place?
10. The characters in Beasts are witness to incredible natural events. Have you ever had any amazing or strange experiences in nature yourself? If so, how did you react?