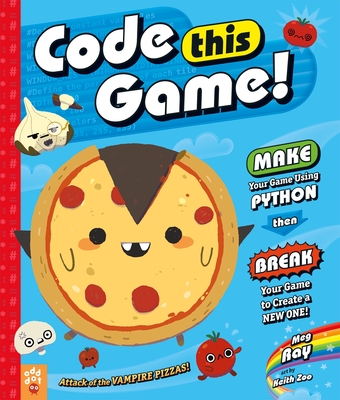 Code This Game! (Hardcover)
Make Your Game Using Python, Then Break Your Game to Create a New One!
Odd Dot, 9781250306692, 320pp.
Publication Date: August 20, 2019
* Individual store prices may vary.
Description
Make it! Code it! Break it! Mod it!
Meg Ray's Code This Game! is a nonfiction visual guide, illustrated by Keith Zoo, that teaches young readers, 10-14, how to program and create their very own video game. Each chapter introduces key coding concepts as kids build an action strategy game in Python, an open-source programming language. The book features an innovative stand-up format that allows kids to read, program, and play their game simultaneously.
With easy-to-follow step-by-step instructions, Code This Game! teaches kids to build a strategy action game called "Attack of the Vampire Pizzas!" The book also teaches how to modify the game and follow one's imagination by incorporating downloadable art assets. By the time kids finish the book, they'll have mastered basic coding concepts and created a personalized game.
About the Author
Meg Ray is the Teacher in Residence at Cornell Tech. She is responsible for the implementation and design of the Teacher in Residence program, a coaching program for K-8 teachers in New York City schools. An experienced middle and high school computer science teacher and special educator, Meg directed the design of the Codesters Python curricula for middle school students and served as a writer for the Computer Science Teachers' Association K-12 CS Standards and as a special advisor to the K12 CS Framework. She lives in New York.

Keith Zoo is an illustrator living near Boston, MA. For the past decade, he's been the Lead Artist at FableVision Studios, working on a full range of things, from character design to animation layout, interactives and design. When he's not there, he loves spending his time drawing monsters, goblins and other silly things. To check out more of Keith's work, head on over to his website.