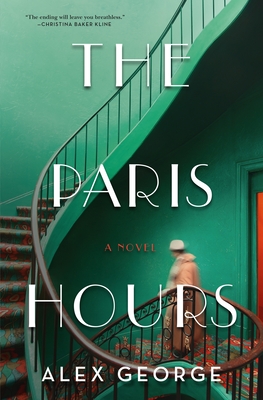 The Paris Hours (Hardcover)
A Novel
Flatiron Books, 9781250307187, 272pp.
Publication Date: May 5, 2020
Other Editions of This Title:
CD-Audio (5/5/2020)
* Individual store prices may vary.
Description
One day in the City of Lights. One night in search of lost time.
Paris between the wars teems with artists, writers, and musicians, a glittering crucible of genius. But amidst the dazzling creativity of the city's most famous citizens, four regular people are each searching for something they've lost.
Camille was the maid of Marcel Proust, and she has a secret: when she was asked to burn her employer's notebooks, she saved one for herself. Now she is desperate to find it before her betrayal is revealed. Souren, an Armenian refugee, performs puppet shows for children that are nothing like the fairy tales they expect. Lovesick artist Guillaume is down on his luck and running from a debt he cannot repay—but when Gertrude Stein walks into his studio, he wonders if this is the day everything could change. And Jean-Paul is a journalist who tells other people's stories, because his own is too painful to tell. When the quartet's paths finally cross in an unforgettable climax, each discovers if they will find what they are looking for.
Told over the course of a single day in 1927, The Paris Hours takes four ordinary people whose stories, told together, are as extraordinary as the glorious city they inhabit.
About the Author
A native of England, Alex George read law at Oxford University and worked for eight years as a corporate lawyer in London and Paris. He has lived in the Midwest of the United States for the last sixteen years. He is the founder and director of the Unbound Book Festival, and is the owner of Skylark Bookshop, an independent bookstore in downtown Columbia, Missouri.
Praise For The Paris Hours: A Novel…
Praise for The Paris Hours
"A notebook plucked from the fire, a missing child, a troublesome debt, a traumatic memory: from these elements, Alex George masterfully concocts a story of desperate, grieving people seeking solace, redemption, and answers to the questions that plague them. Like All the Light We Cannot See, The Paris Hours explores the brutality of war and its lingering effects with cinematic intensity. The ending will leave you breathless."
—Christina Baker Kline, #1 New York Times bestselling author of Orphan Train and A Piece of the World
"The Paris Hours is the kind of novel I always dream about finding: a completely engrossing story that had me canceling plans so I could race to the end. Alex George brilliantly conjures a world between the wars filled with unforgettable characters, including Maurice Ravel, Ernest Hemingway, Marcel Proust, and Josephine Baker. This is a book with Paris at its heart for any reader who loved Paula McClain's The Paris Wife or Anthony Doerr's All the Light We Cannot See. I read The Paris Hours without pausing, desperate to see if these marvelous characters could escape the ache of their past. And I gasped when I got to the end."
—Will Schwalbe, New York Times bestselling author of The End of Your Life Book Club and Books for Living
"In The Paris Hours, Alex George writes movingly of human connection, lost and found. His vivid portrayal of lives intersecting in early 20th century Paris will delight you with its lyricism and touch you with its humanity. There are delicious cameos from famous expatriates such as Gertrude Stein and Ernest Hemingway, but the main protagonists, all seeking something or someone lost, seemingly forever, are so beautifully drawn they will haunt you long after you reach the end."
—Melanie Benjamin, New York Times bestselling author of The Swans of Fifth Avenue and Mistress of the Ritz
"The Paris Hours is a feast of the human soul. In this stunning novel, Alex George goes behind the glitter of Paris in 1927 and takes you to the rooftops, the skinny alleyways, the flower-strewn parks, and darkened bar rooms to mine the wisdom of humanity. A remarkable story. Beautifully rendered; gorgeously told."
—Jessica Keener, author of Strangers In Budapest
"Although Josephine Baker, Marcel Proust, Ernest Hemingway, and Gertrude Stein drift along the edges of this exquisitely written, lovely jewel of a book, the characters who win our true affection are those created with appealing sympathy by Mr. George. They move through the streets of an evocatively rendered Paris and into our hearts as their lives entwine and the story builds to a conclusion as bittersweet as life itself."
—George Hodgman, New York Times bestselling author of Bettyville
"Unfolding over the course of one day in 1927, in a city whose citizens remain traumatized by the devastation of World War I, The Paris Hours is a thrilling, irresistible marvel. In lyrical prose, author Alex George weaves together memory, loss, and yearning, portraying his characters with such vivid immediacy that I could imagine myself walking beside them along the winding streets of Paris, sharing their stories. Riveting, heartbreaking, and compassionate, The Paris Hours continues to haunt me."
—Lauren Belfer, New York Times bestselling author of City of Light and And After the Fire, recipient of the National Jewish Book Award
"Alex George does for the croissant what his muse Marcel Proust did for the madeleine. A journey of memory, The Paris Hours is a sensory feast that had me gobbling pages and dreaming myself into the sparkling company of Gertrude Stein, Josephine Baker, and Sylvia Beach during the heyday of Paris prestige. You know a novel is great when you finish reading and wish the fiction could be true history."
—Sarah McCoy, New York Times and international bestselling author of Marilla of Green Gables