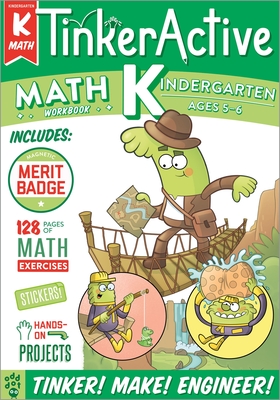 TinkerActive Workbooks
Kindergarten Math
Paperback

* Individual store prices may vary.
Description
TINKERACTIVE WORKBOOKS: MATH is part of an exciting new workbook series that blends traditional exercises with hands-on activities.

Tinker, make, and engineer to learn through play! With TINKERACTIVE WORKBOOKS learning leaps off the page and into the real world.

Start with interactive and entertaining exercises that cover the essential kindergarten math and problem-solving skills. Then, apply what you've learned in exciting hands-on tinkering, making, and engineering activities that utilize only common household materials. Plus, the charming cast of characters, the MotMots, guide kids through every new concept with cheer and humor. Once you've completed the workbook, unbox a collectible magnet hidden in the back cover!

Vetted by award-winning educators, TINKERACTIVE WORKBOOKS are designed for all learners. They build your child's fundamental math skills AND inspire them to try new things, discover new skills, and imagine new possibilities.
Odd Dot, 9781250307217, 128pp.
Publication Date: May 14, 2019
About the Author
Nathalie Le Du is a writer and editor of interactive books that kids write in, cut up, draw on, generally destroy, and ultimately learn from. Nathalie has been at the helm and in the pages of such brands as KUMON WORKBOOKS, BRAIN QUEST, STAR WARS WORKBOOKS, and the BIG FAT NOTEBOOKS. Nathalie is also a mom, native New Yorker, a first-generation American, and a proud product of public schools.

Ellen Stubbings is a children's book illustrator (Father Goose), comic artist, and cute thing maker. She graduated with a first class honors degree in Illustration from the University of Lincoln and currently resides in the UK. Ellen creates her art digitally in her tiny office, often accompanied by her husband, Wesley, and tuxedo cat, Figaro.

Odd Dot is an imprint of Macmillan Children's Publishing Group dedicated to creating joyful books for curious minds. Our mission is to develop interactive and substantive gift books that explore categories and formats never seen before. We are a proudly odd mix of makers, creators, and engineers, guided by the priorities of innovation, education, and play.