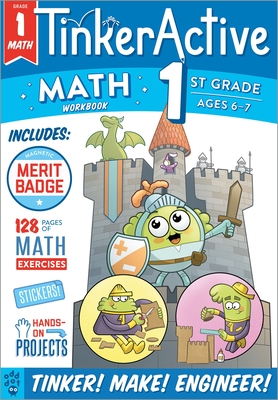 TinkerActive Workbooks
1st Grade Math
Paperback

* Individual store prices may vary.
Description
TINKERACTIVE WORKBOOKS: 1ST GRADE MATH is part of an exciting workbook series that blends traditional exercises with hands-on activities.

Tinker, make, and engineer to learn through play! With TINKERACTIVE WORKBOOKS, learning leaps off the page and into the real world.

Start with interactive and entertaining exercises that cover the essential first grade math and problem-solving skills. Then, apply what you've learned in exciting hands-on tinkering, making, and engineering activities that utilize only common household materials. Plus, the charming cast of characters, the MotMots, guide kids through every new concept with cheer and humor. Once you've completed the workbook, unbox a collectible magnet hidden in the back cover!

Vetted by award-winning educators, TINKERACTIVE WORKBOOKS are designed for all learners. They build your child's fundamental math skills AND inspire them to try new things, discover new skills, and imagine new possibilities.
Odd Dot, 9781250307224, 128pp.
Publication Date: May 14, 2019
About the Author
Justin Krasner is a writer and bookmaker, lover of learning, mischief maker, loud laugher and sneezer, and curious kid who can't grow up. He lives in Brooklyn, NY.
Chad Thomas first picked up a pencil in 1983, decided to draw cartoons in 1988, and finally started getting paid for it in 2005. He loves his family, comic books and Star Wars, and will let his children beat him in Checkers, but never in Mario Kart.

Thomas has illustrated several TinkerActive Workbooks for Odd Dot.
Odd Dot
is an imprint of Macmillan Children's Publishing Group dedicated to creating joyful books for curious minds. Our mission is to develop interactive and substantive gift books that explore categories and formats never seen before. We are a proudly odd mix of makers, creators, and engineers, guided by the priorities of innovation, education, and play.