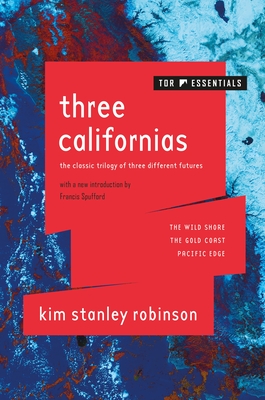 Three Californias (Paperback)
The Wild Shore, The Gold Coast, and Pacific Edge
Tor Books, 9781250307569, 848pp.
Publication Date: February 4, 2020
* Individual store prices may vary.
Description
Three Californias is the brilliant sf trilogy (The Wild Shore, The Gold Coast, Pacific Edge) that launched the career of international bestseller Kim Stanley Robinson, author of Red Mars and 2312.
Before Kim Stanley Robinson terraformed Mars, he wrote three science fiction novels set in Orange County, California, where he grew up. These alternate futures—one a post-apocalypse, one an if-this-goes-on future reminiscent of Philip K. Dick, and one an ecological utopia—form a whole that illuminates, enchants, and inspires.
The Wild Shore was nominated for the Philip K. Dick Award, and won the Locus Award for Best First Novel. Ursula K. Le Guin hailed it as "A fresh wind blowing". The second of the trilogy, The Gold Coast, is a manic, savage look at the craziness of technology out of control. The third, Pacific Edge, is a Utopia, where humanity tries to live in harmony with the natural world, but greed is still a force, and hearts still break. Pacific Edge won the John W. Campbell Award for Best Novel.
With a new introduction by Francis Spufford, bestselling author of Golden Hill.
About the Author
KIM STANLEY ROBINSON is an American science fiction writer. He is the author of more than 20 books, including the international bestselling Mars trilogy: Red Mars, Green Mars, Blue Mars, and more recently Red Moon, New York 2140, and 2312, which was a New York Times bestseller nominated for all seven of the major science fiction awards—a first for any book. 2008 he was named a "Hero of the Environment" by Time magazine, and he works with the Sierra Nevada Research Institute, the Clarion Writers' Workshop, and UC San Diego's Arthur C. Clarke Center for Human Imagination. He has won the Hugo, Nebula, Locus, and World Fantasy awards. In 2016 he was given the Heinlein Award for lifetime achievement in science fiction, and asteroid 72432 was named "Kimrobinson." In 2017 he was given the Arthur C. Clarke Award for Imagination in Service to Society.
Praise For Three Californias: The Wild Shore, The Gold Coast, and Pacific Edge…
The Wild Shore
"There's a fresh wind blowing in The Wild Shore. Welcome, Kim Stanley Robinson." —Ursula K. Le Guin
"Part Huck Finn and part Our Town, Robinson's first novel is a well-written, engaging rite of passage..." —Publishers Weekly

"Captivating and unflaggingly readable..."—Washington Post Book World
"This rich fable is warm but excoriatingly honest and connects with the vulnerable cynicism so many of us feel about our political lives...It offers us something more precious even than gold: pride in being an American."—Philadelphia Inquirer

The Gold Coast
"In this novel, Kim Stanley Robinson illuminates the selfishness and folly of the twenty-first century better than anyone actually living in the twenty first century is ever likely to."—Gene Wolfe
"It is a rich, brave book."—John Clute, The Washington Post Book World
"What a bold, manic, wonderful book this is!"—Los Angeles Times
"Like light focused into a coherent beam, The Gold Coast brilliantly illuminates the craziness of technology out of control."—Interzone
"Readers who seldom touch science fiction will enjoy it and certainly not find it disorienting."—The Philadelphia Inquirer
Pacific Edge

"An outstanding achievement."—Publishers Weekly
"Pacific Edge...will definitely keep your attention from page one to grand finale."—The Houston Post
"[Robinson] invites us to share his characters' intensely personal, intensely local attachment to what they have. The result is a bittersweet utopia that may shame you into entertaining new hope for the future."—The New York Times Book Review
"Utterly convincing. There are no false notes."—The Washington Post Book World