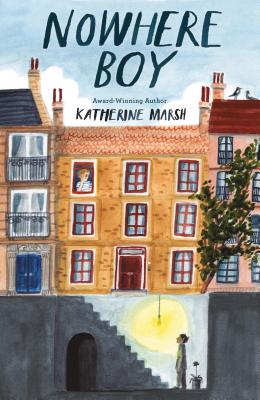 Nowhere Boy
Hardcover

* Individual store prices may vary.
Other Editions of This Title:
Digital Audiobook (11/5/2018)
Paperback (8/25/2020)
CD-Audio (11/13/2018)
Description
"A resistance novel for our time." - The New York Times
"A hopeful story about recovery, empathy, and the bravery of young people." - Booklist
"This well-crafted and suspenseful novel touches on the topics of refugees and immigrant integration, terrorism, Islam, Islamophobia, and the Syrian war with sensitivity and grace." - Kirkus, Starred Review

Fourteen-year-old Ahmed is stuck in a city that wants nothing to do with him. Newly arrived in Brussels, Belgium, Ahmed fled a life of uncertainty and suffering in Aleppo, Syria, only to lose his father on the perilous journey to the shores of Europe. Now Ahmed's struggling to get by on his own, but with no one left to trust and nowhere to go, he's starting to lose hope.

Then he meets Max, a thirteen-year-old American boy from Washington, D.C. Lonely and homesick, Max is struggling at his new school and just can't seem to do anything right. But with one startling discovery, Max and Ahmed's lives collide and a friendship begins to grow. Together, Max and Ahmed will defy the odds, learning from each other what it means to be brave and how hope can change your destiny.

Set against the backdrop of the Syrian refugee crisis, award-winning author of Jepp, Who Defied the Stars Katherine Marsh delivers a gripping, heartwarming story of resilience, friendship and everyday heroes. Barbara O'Connor, author of Wish and Wonderland, says "Move Nowhere Boy to the top of your to-be-read pile immediately."
Praise For Nowhere Boy…
People Magazine "Kid Pick"
Chicago Public Library Best of the Best Books of 2018
New York Times Book Review Notable Children's Books of 2018
"An important and riveting story, masterfully told. Move this one to the top of your to-be-read pile immediately." -Barbara O'Connor, author of WISH and WONDERLAND
"Elegantly structured, plausible in its improbable plot, and studded with moments of rapturous prose. The book ends on a single word that sums up its entire message: Hope." - Elizabeth Wein, The New York Times Book Review
"Nowhere Boy has the authenticity of nonfiction, with all the heart and pulse of a great novel. As a journalist, who has reported on the refugee crisis for years, I was deeply impressed by how real and gripping Marsh's tale felt -- from the very start -- as a father and son clung to a life raft in rough seas. This should be required reading in middle schools across America." - Jake Halpern, winner of the 2018 Pulitzer Prize for his series, "Welcome to the New World," in the New York Times.
A "perilous journey, tempered by the striking realism of obstacles refugees face daily." - Bulletin of the Center for Children's Books, Starred Review
"This well-crafted and suspenseful novel touches on the topics of refugees and immigrant integration, terrorism, Islam, Islamophobia, and the Syrian war with sensitivity and grace. A captivating book situated in present-day discourse around the refugee crisis." - Kirkus, Starred Review
"Marsh skillfully weaves the historical parallels with a touching story of friendship. She ratchets up the tension and suspense, until it becomes unbearable; readers will fly through the last hundred pages...Thoughtfully touching on immigration, Islamophobia, and terrorism, this novel is a first-purchase. Hands to fans of Alan Gratz's Refugee." - School Library Journal, Starred Review
"Through the boys' deepening friendship, [Katherine Marsh] offers a timely and entertaining tale of suspense and intrigue while eloquently conveying the courage necessary to trust another person in a climate rife with fear, suspicion, and ethical dilemmas." - Publishers Weekly, Starred Review
"A hopeful story about recovery, empathy, and the bravery of young people." - Booklist
"Beautifully done." - People Magazine
"Perfect for classroom reads, this timely novel with its strong male protagonists will foster discussions about friendship, Islam, and complex refugee predicaments throughout the world." - VOYA
Roaring Brook Press, 9781250307576, 368pp.
Publication Date: August 7, 2018
About the Author
Katherine Marsh is the Edgar Award-winning author of The Night Tourist; The Twilight Prisoner; Jepp, Who Defied the Stars; and The Doors by the Staircase. Katherine grew up in New York and now lives in Brussels, Belgium, with her husband and two children.
1. Talk about how Max changes in the novel. What is he like at the beginning? What does he consider to be the problems in his life then? How does knowing and helping Ahmed change Max?
2. Ahmed also changes. What are some of the factors that change him? Who helps him and who makes his life more difficult? When Ahmed calls Max a "boy hero," Max replies, "No, just a sidekick to one" (p. 274). Why does Ahmed call Max a hero? What makes Ahmed a hero in Max's eyes?
3. Max worries about the fact that he's lying to his parents in order to help Ahmed. He views his actions as betraying his parents but also as "wrong and right at the same time" (p. 222). What does he mean? What are some of the lies? Explain whether you think they are justified, and why or why not. Discuss whether it's possible to do something you consider wrong for the right reasons.
4. The chapters alternate between Max and Ahmed. What's the effect of alternating between the two? Why do you think the author chose to use third-person points of view instead of first person? How would the story have been different if only one of the boys narrated it?
5. After he learns about Ahmed's situation, Max sees the following about himself: "He had always taken school for granted. Now he realized that even being able to hate it was a luxury" (p. 152). How does knowing Ahmed change Max's viewpoint? What is Ahmed's attitude toward school before he goes and after he starts? What would your life be like now and in the future if you no longer had access to school?
6. How are the orchids and the backyard garden important to Ahmed? What role do they play in the plot? How are they used symbolically in the story?
7. Recount the story of Albert Jonnart and Ralph Mayer. How does the story influence Max? How does it help Ahmed, especially at the end of the novel? Discuss similarities and differences between Jonnart's actions and Max's.
8. Discuss how Max's family members interact with each other, giving positive and negative examples. Why does Max feel like Claire betrays him and Ahmed? Do you agree that it's betrayal? What explains her actions? How do Max's parents react to his trip to Hungary? How do you think the dynamics of this family might change in the future?
9. What are some words that describe Oscar when Max first meets him? Why is he so unfriendly to Max? How does he start acting differently toward Max? Why does he change? Describe ways that Oscar helps Max and Ahmed.
10. How does Farah treat Max when he's new at school? Why does she decide to help Max and Ahmed? What does she do for them, and what are the risks for her? Talk about some of the problems that Farah has to cope with in her life. What does Max learn from her?
11. Find comments from Madame Pauline and Inspector Fontaine that show how they view the refugees in Belgium. Why is their attitude so hostile? Discuss Ahmed's observations that many of the refugees are escaping terrorist wars and that, although perhaps one in a million refugees is a terrorist, some people consider them all dangerous.
12. Find an image of the Magritte painting with the birdcage. What are the boys' responses to the painting? What is your response? Locate images of other Magritte paintings and talk about his artwork, including any way you think it relates to the story.
Coverage from NPR