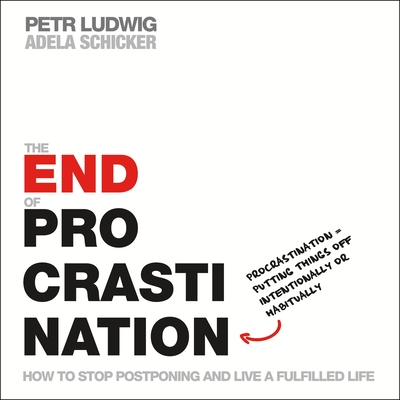 The End of Procrastination (Paperback)
How to Stop Postponing and Live a Fulfilled Life
St. Martin's Essentials, 9781250308054, 272pp.
Publication Date: December 31, 2018
* Individual store prices may vary.
Description
Simple, science-based tools to stop procrastination
Even with overflowing inboxes, thousands of unread notifications, and unmet deadlines, most people still can't manage to take control of their time and stop procrastinating. The End of Procrastination tackles this ubiquitous issue head on, helping you stop putting off work and reclaim your time. Author Petr Ludwig shows that ending procrastination is more than a wise time management strategy—it's essential to developing a sense of purpose and leading a happier more fulfilled life.

The keys to overcoming procrastination are simple. With eight clear, approachable tools—from quick daily worksheets to shift your perspective to to-do lists that actually help you get things done—The End of Procrastination provides everything you need to change the way you manage your time and live your life.
Based on the latest research, The End of Procrastination synthesizes over one hundred scientific studies to create a program that is based on the way our brains actually work. By understanding exactly why procrastination happens and how our brains respond to motivation and self-discipline, the book provides readers with the knowledge to conquer procrastination on an everyday basis.
About the Author
Petr Ludwig is a science popularizer, entrepreneur, and consultant for Fortune 500 companies. He explains crucial and difficult things simply and easily. Peter helps to improve intrinsic motivation, efficiency, and the happiness of people at work and in their personal lives. In The End of Procrastination and in his talks, he transfers the knowledge of neuroscience and behavioral economics into practice.

Adela Schicker is the co-founder of Procrastination.com, the institute that helps companies and individuals to reach their full potential. Adela translated The End of Procrastination and is helping it to reach the international audience. She speaks at conferences and training companies worldwide, making sure that science can be explained simply and made useful for everyone.
Praise For The End of Procrastination: How to Stop Postponing and Live a Fulfilled Life…
"Peter Ludwig's important new book, The End of Procrastination, provides endlessly brilliant insights into the nature of this phenomenon as well as timely advice on overcoming the barriers to productivity that procrastination erects. Read it, and refashion your thinking about this problem, and share with others who need to be more Doers than just mental tinkerers."
—Dr. Philip Zimbardo, Ph.D, Professor Emeritus Stanford University
"Ludwig's deceptively simple debut provides marvelous tips for increasing productivity."—Publisher's Weekly