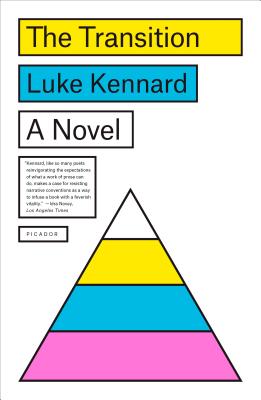 The Transition (Paperback)
A Novel
Picador, 9781250309310, 336pp.
Publication Date: December 31, 2018
Other Editions of This Title:
Digital Audiobook (1/8/2018)
Hardcover (1/9/2018)
* Individual store prices may vary.
Description
"The sort of book that cuts you off from your family and has you walking blindly through seven lanes of traffic with your face pressed obliviously to the page." —James Marriott, The Times (London)

In Luke Kennard's hilarious and gripping vision of the future, a young man joins a program called the Transition in an attempt to make a painless move into adulthood, with no idea of what he must sacrifice.

Do you or your partner spend more than you earn? Have your credit card debts evolved into collection letters? Has either of you received a court summons? Has either of you considered turning to a life of a crime? You are not alone. We know. We can help.

Welcome to the Transition.

While taking part in the Transition, you and your partner will spend six months living under the supervision of your mentors, two successful adults of a slightly older generation. Freed from your financial responsibilities, you will be coached through the key areas of the scheme—Employment, Nutrition, Responsibility, Relationship, Finances, and Self-respect—until you are ready to be reintegrated into adult society.

At the end of your six months, who knows what discoveries you'll have made about yourself? The "friends" you no longer need. The talents you'll have found time to nurture. The business you might have kick-started. Who knows where you'll be?
About the Author
Luke Kennard is the author of several collections of poetry. He won an Eric Gregory Award in 2005 and was short-listed for the Forward Prize for Best Collection in 2007 and for the International Dylan Thomas Prize in 2017. He lectures at the University of Birmingham and was selected by the Poetry Book Society as one of the Next Generation Poets in 2014. The Transition is his first novel.
Praise For The Transition: A Novel…
"The Transition brings to mind the symbol-rich fictional worlds of the late poet-novelist Denis Johnson . . . Kennard, like so many poets reinvigorating the expectations of what a work of prose can do, makes a case for resisting narrative conventions as a way to infuse a book with a feverish vitality."
—Idra Novey, Los Angeles Times

"[A] sharp, witty debut . . . Enlivened by crisp dialogue and Wildean epigrams ("That's the problem with self-respect . . . you start to feel offended when someone insults you"), the novel splendidly hums along. Kennard calibrates satire and sentiment, puncturing glib diagnoses of a generation's shortcomings while producing a nuanced portrait of a marriage."
—Publishers Weekly [boxed, starred review]

"Just like the best dystopian fiction—think Animal Farm or Fahrenheit 451—The Transition encourages us to heighten our awareness of and resist forces that push us to act against our best interests."
—Pierce Smith, Chicago Review of Books

"A scathing romp about late capitalism's social ills."
—Kirkus Reviews

"[A] biting debut . . . An intelligent satire about our collective future . . . Kennard's gift for dialogue and fluent imagination are surely signs of promising things to come."
—Poornima Apte, Booklist

"Extremely smart and extremely funny, Luke Kennard's first novel is a brilliant dismantling of our corporatized century. It also features one of the most endearingly hapless heroes since Lucky Jim. In a world where everything real has been outsourced if it can't be demolished, a book like The Transition is not just a ray of light—it's utterly vital."
—Paul Murray, author of Skippy Dies and The Mark and the Void

"A dystopia in a velvet glove . . . Richly enjoyable . . . Chilling . . . [Kennard's poetry] combines accessibility with formal daring and a twist of surrealism. He brings all these qualities to this novel, along with a jaunty lightness that makes the pages slip by deceptively easily."
—Justine Jordan, The Guardian

"The sort of book that cuts you off from your family and has you walking blindly through seven lanes of traffic with your face pressed obliviously to the page."
—James Marriott, The Times

"Uncomfortably familiar . . . Gripping."
—Max Liu, The Financial Times

"To read Luke Kennard is to experience the gleeful rush that comes with encountering a writer who has an uncanny ability to scoop the contents of your head directly onto the page."
—Shortlist

"An eerie premonition at the fate of today's squeezed middle . . . Kennard has taken topical issues of today, added in technological advancement of tomorrow and shown how it could result in social disaster . . . An insightful work of fiction with dark wit and unsettling accuracy."
—Margaret Madden, The Irish Times
or
Not Currently Available for Direct Purchase