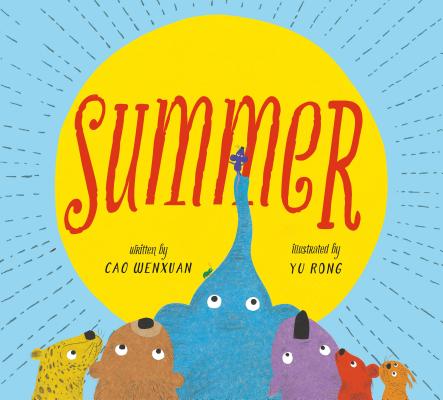 Summer (Hardcover)
Imprint, 9781250310064, 48pp.
Publication Date: May 7, 2019
* Individual store prices may vary.
Description
Summer is a poetic, inspirational picture book about the power of kindness from two of China's most acclaimed creators—and children will discover a surprise as they turn the pages!
During a hot summer day in the grasslands, a group of animals race to claim the single spot of shade—under one tiny leaf that clings to a branch. The animals fight until they are inspired by an act of love to offer shade to one another.
Through lyrical text from Hans Christian Andersen Award winner Cao Wenxuan, the story comes alive with bright, delicate art from award-winning illustrator Yu Rong and provides a vivid introduction to animals. In the middle of the book, pages grow shorter and then longer to emphasize each selfless action and to remind children of the importance of sharing and being kind.

An Imprint Book
"An exquisitely calibrated fable, with a lyrically plainspoken voice, a vivid sense of atmosphere, and deftly choreographed moments of high drama and humor." —Publishers Weekly (starred review)
"As in fables of yesteryear, Cao holds a mirror to selfishness as well as to an individual's ability to transcend that tendency. Children will return often to enjoy the interactive opportunities and the harmony that prevails." —Kirkus Reviews (starred review)
About the Author
Cao Wenxuan grew up in rural China and is now a professor of Chinese literature and children's literature. He is the author of several celebrated books for young readers, including the novel Bronze and Sunflower, which received three starred reviews. His fluid, poetic prose depicts honest, sometimes raw, and often melancholy moments of life.
He has also received significant recognition for his academic research and teaching in the field of children's literature, and he was the first Chinese author to win the Hans Christian Andersen Author Award.
Yu Rong
is an award-winning Chinese illustrator of children's picture books, including
Tracks of a Panda
by Nick Dowson. She is especially known for her use of cut paper in her artwork.
Praise For Summer…
"An exquisitely calibrated fable, with a lyrically plainspoken voice, a vivid sense of atmosphere, and deftly choreographed moments of high drama and humor." —Publishers Weekly, starred review
"As in fables of yesteryear, Cao holds a mirror to selfishness as well as to an individual's ability to transcend that tendency. Children will return often to enjoy the interactive opportunities and the harmony that prevails." —Kirkus Reviews, starred review

"Children will enjoy finding the animals... and will appreciate the unselfishness of their considerate acts." —Booklist

"Highly recommended... a well written, lyrical story with a message about kindness and cooperation." —School Library Journal