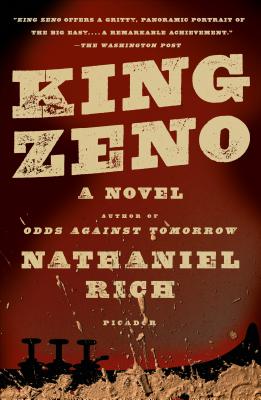 King Zeno (Paperback)
A Novel
Picador, 9781250310347, 400pp.
Publication Date: January 8, 2019
Other Editions of This Title:
Digital Audiobook (1/8/2018)
Hardcover (1/9/2018)
* Individual store prices may vary.
Description
A New York Times Book Review Editors' Choice and a Paris Review Staff Pick

A January Pick by Salon, Town and Country, Southern Living, and LA Magazine
New Orleans, 1918. The birth of jazz, the Spanish flu, an ax murderer on the loose. The lives of a traumatized cop, a conflicted Mafia matriarch, and a brilliant trumpeter converge—and the Crescent City gets the rich, dark, sweeping novel it so deserves.
From Nathaniel Rich, one of the most inventive writers of his generation, King Zeno is a historical crime novel and a searching inquiry into man's dreams of immortality.
New Orleans, a century ago: a city determined to reshape its destiny and, with it, the nation's. Downtown, a new American music is born. In Storyville, prostitution is outlawed and the police retake the streets with maximum violence. In the Ninth Ward, laborers break ground on a gigantic canal that will split the city, a work of staggering human ingenuity intended to restore New Orleans's faded mercantile glory. The war is ending and a prosperous new age dawns. But everything is thrown into chaos by a series of murders committed by an ax-wielding maniac with a peculiar taste in music.
The ax murders scramble the fates of three people from different corners of town. Detective William Bastrop is an army veteran haunted by an act of wartime cowardice, recklessly bent on redemption. Isadore Zeno is a jazz cornetist with a dangerous side hustle. Beatrice Vizzini is the widow of a crime boss who yearns to take the family business straight. Each nurtures private dreams of worldly glory and eternal life, their ambitions carrying them into dark territories of obsession, paranoia, and madness.
In New Orleans, a city built on swamp, nothing stays buried long.
About the Author
Nathaniel Rich is the author of the novels King Zeno, Odds Against Tomorrow, and The Mayor's Tongue. He is a writer at large for The New York Times Magazine and a regular contributor to The Atlantic and The New York Review of Books. He lives in New Orleans.
Praise For King Zeno: A Novel…
"The novel, like a city, somehow coheres, as Rich never loses control of the riotous raw material . . . Rich is a gifted portraitist of his three main characters . . . This is a novel with a high body count, but it has far too much energy ever to feel morbid." —Chris Bachelder, The New York Times Book Review
"A groaning board of tasty literary treats . . . King Zeno offers a gritty, panoramic portrait of the Big Easy . . . Full of sharply rendered characters, gallows humor and finely observed descriptions . . . The fact that Rich comes so close to executing this ambitious literary banquet is in itself a remarkable achievement." —John Michaud, The Washington Post
"Sprawling, yet speedy . . . A rich, contemporary canonization of the Crescent City at the turn of the century." —Vanity Fair
"King Zeno is a great detective novel, a fitting tribute to the Crescent City." —Jeffery Gleaves, The Paris Review (Staff Pick)
"Action packed . . . Rich has a feel for New Orleans life." —Dan Cryer, San Francisco Chronicle
"Wildly imaginative . . . Stealing the show, though, is the Big Easy, with its distinctive mix of music, race, and history, at a moment when the Spanish Flu and a series of ax murders terrified residents. With an artful blend of humor suspense, and noir, Rich folds facts into a work of fiction that evokes the historical novels of E. L. Doctorow." —The National Book Review (Hot Book of the Week)
"Has anyone written the Great Novel of New Orleans? If not, Nathaniel Rich's sprawling, funny, tragic, generous new work, King Zeno, comes close. It reminded this reviewer of John Dos Passos' U.S.A. trilogy, with its clever melding of real and fictional events, its snippets of newspaper articles and astonishingly memorable characters . . . King Zeno is the New Orleans novel we've been waiting for." —Arlene McKanic, BookPage
"Meticulously timed and plotted . . . Unforgettable characters . . . To read King Zeno is to see the city through Rich's sharply observant yet loving eyes . . . It takes time to learn a city, to love it, to make a mark on it, and Rich has done that in King Zeno." —Susan Larson, The Advocate (New Orleans)
"The fates of those characters interweave in a tragic yet funny way to highlight the social and economic disparities in a city attempting to regain its faded glory . . . Rich knows well the city, its people and the racial hierarchies that underpin their life and this story. For his third novel, Rich has written a nicely paced detective thriller, with a twist, propped up by the realities of a society that is racist, yet multicultural in many ways. His offbeat humor and lively writing make King Zeno a good read on both levels." —Chris Smith, Winnipeg Free Press
"Rich brings multiple themes together in this roiling genre-blender set in New Orleans in 1918 . . . It's a rich gumbo of ingredients, and Rich stirs them effectively, combining a lyrical, impressionistic style with a sure-handed grasp of the historical moment . . . A heady mix of literary thriller and high-end historical fiction." —Booklist
"[King Zeno] excels at immersing the reader in the narrative." –Publishers Weekly
"In this deft historical thriller, Rich . . . seamlessly blends fact with fiction . . .Though [the] story lines do not converge until the climactic final chapter, they are absorbing enough on their own to keep readers engaged. The period details—most taken directly from the historical record—are expertly deployed." —Michael Pucci, Library Journal