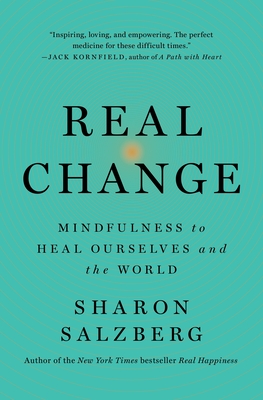 Real Change
Mindfulness to Heal Ourselves and the World
Paperback

* Individual store prices may vary.
Other Editions of This Title:
Digital Audiobook (8/31/2020)
Hardcover (9/1/2020)
CD-Audio (9/1/2020)
Description
From one of most prominent figures in the field of meditation comes a guidebook for how to use mindfulness to build our inner strength, find balance, and help create a better world.

In today's fractured world, we're constantly flooded with breaking news that causes anger, grief, and pain. People are feeling more stressed out than ever, and in the face of this fear and anxiety they can feel so burnt out and overwhelmed that they end up frozen in their tracks and unable to do anything. In Real Change, Sharon Salzberg, a leading expert in lovingkindness meditation, shares sage advice and indispensable techniques to help free ourselves from these negative feelings and actions. She teaches us that meditation is not a replacement for action, but rather a way to practice generosity with ourselves and summon the courage to break through boundaries, reconnect to a movement that's bigger than ourselves, and have the energy to stay active.

Consulting with veteran activists and social-change agents in a variety of fields, Salzberg collects and shares their wisdom and offers the best practical advice to foster transformation in both ourselves and in society. To help tame our inner landscape or chaos, Salzberg offers mindfulness practices that will help readers cultivate a sense of agency and stay engaged in the long-term struggle for social change.

Whether you're resolving conflicts with a crotchety neighbor or combating global warming, Real Change will provide the fundamental principles and mindfulness practices to help guide you to the clarity and confidence to lift a foot and take the next step into a better world.
Praise For Real Change: Mindfulness to Heal Ourselves and the World…
"Inspiring, loving, and empowering. The perfect medicine for these difficult times." - Jack Kornfield, author of A Path With Heart

"Real Change is a real gift to us all at a crucial time in our human evolution helping us cultivate the clarity to bring deeply needed transformation into our personal and public lives. Sharon Salzberg powerfully guides us with practical steps to cultivate resilience as we bring more active compassion and care into the world. Soak in these words of wisdom and your inner life and the world around you will change for the better!" - Dan Siegel, New York Times bestselling author of Brainstorm, The Whole-Brain Child, and No-Drama Discipline

"Real Change is a field guide for those of us who want to stay connected to our humanity, to retain our integrity and peace, but not give up our righteous outrage and obligation to social activism...Sharon leads us through the narrow way, to the 'intersection between lovingkindness practice and making change in the world'...the manual for those who are committed to both personal and societal evolution at this moment in time." - Rosanne Cash, New York Times bestselling author of Composed and acclaimed singer/songwriter

"In this age of anxiety, grief, and strife, Sharon Salzberg, a leading authority on lovingkindness meditation, offers exactly the wisdom we need: the mindfulness to take action. This is not the mindfulness of navel-gazing on a mountaintop. Salzberg knows what it's like to grieve and to heal; to fight and to reconcile; to fear and to find courage. She is the guide we've been looking for — and not a moment too soon." – Susan Cain, New York Times bestselling author of Quiet: The Power of Introverts in a World That Can't Stop Talking

"At a time that many are (rightly) talking about how to heal a wounded world environmentally, politically, and economically, and many are (rightly) talking about how to heal our inner worlds, Sharon Salzberg is wisely reminding us that we live in a deeply and profoundly interconnected world….Read Real Change, and take its wisdom to heart, and take its message to the world." - Omid Safi

"In this book, Sharon has bridged the worlds of mindfulness and social action. She helps us understand that the work we do on ourselves is a prelude to the work we can then do, with others, to reduce suffering in the world. The self inquiry tools she gives us are not just appropriate for social activists but can be by everyone involved in social change from philanthropists to leaders in corporations, foundations, and governments. Mindful, collaborative, social change! - Jeffrey C. Walker, Chairman, New Profit Retired Vice Chairman

"Sharon Salzberg has guided hundreds of thousands of individuals into the depth of their own hearts. In 'Real Change' she reveals, not only her potent sources of inspiration, but the personal struggles that have turned her into our most kindly and seasoned spiritual teacher. A real joy!" - Mark Epstein M.D., author of Going to Pieces without Falling Apart and Advice Not Given: A Guide to Getting Over Yourself

"Sharon Salzberg continues 'keeping it real' with this beautifully written and inclusive work that carries a crucial message for anyone interested in mindfulness in the modern world: how to take our practice off of the meditation seat and into action. Sharon's true strength—as both one of the greatest spiritual teachers of our time, and as a great writer—is mixing her own insights with the wisdom narratives of others. In this book she does just that, generating insights that will help meditators with their activism practice, and help activists with their self-care. A wonderful and timely book." - Ethan Nichtern, author of The Road Home: A Contemporary Exploration of the Buddhist Path

"This book is amazing! An imperative read for anyone who has feelings or cares about the world and doesn't want apathy or exhaustion to win. Sharon Salzberg writes beautifully and clearly, you feel she's sitting with you and 'getting' you. Whether you started heart-broken or feeling hopeless, by the end you'll want to show up, connect, and make a difference in this messy, miraculous world." - Daphne Zuniga, actor/activist

"Sharon Salzberg's depth of wisdom and open-hearted kindness gets better and better book after book!...with her usual generosity of spirit and keen observation of life's realities, emerging from these pages as now even more than a singular voice...she selflessly represent the many experiences and insights of her wealth of dedicated colleagues and students. I commend this book whole-heartedly, as kindling the pulse of the positive in the realistic way so needed by us all today, in these challenging times." - Robert A.F. Thurman, author of Man of Peace: Illustrated Life Story of the Dalai Lama of Tibet

"Of all the contemporary women Buddhist teachers, Sharon Salzberg, is the most radically open...the one teacher I have met throughout the years who I can spend lots of time with, speaking both about the sacred and the mundane." – bell hooks

"Salzberg's wisdom is a compass. Her teaching helps readers navigate through unnerving times, serves as a salve for fractured hearts, and illustrates who we can be personally and collectively if we allow ourselves to embrace compassion as a path to clarity." - Jamia Wilson, Feminist Press Director and Publisher, author and activist

"Sharon Salzberg is bringing forward the teachings of the Buddha at a critical time in human history. We can all gain from having greater mental clarity and stronger loving kindness, but what is special about Real Change is that it invites us to see the unity between personal transformation and global healing; as compassion grows in the hearts of many it will undoubtedly have a positive impact on the world. Sharon Salzberg is a gift to the world of mindfulness and a leader amongst meditators, her timeless wisdom has helped countless people reclaim their power." - Yung Pueblo, author of Inward
Flatiron Books, 9781250310590, 240pp.
Publication Date: November 30, 2021
About the Author
SHARON SALZBERG is a central figure in the field of meditation, a world-renowned teacher and New York Times bestselling author. She has played a crucial role in bringing meditation and mindfulness practices to the West and into mainstream culture since 1974, when she first began teaching. She is the cofounder of the Insight Meditation Society in Barre, MA and the author of several books including the New York Times bestseller, Real Happiness, her seminal work, Lovingkindness, and Real Happiness At Work. Renowned for her down-to-earth teaching style, Sharon offers a secular, modern approach to Buddhist teachings, making them instantly accessible. She is a regular columnist for On Being, a contributor to Huffington Post, and the host of her own podcast: The Metta Hour.