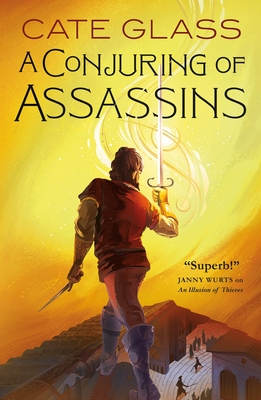 A Conjuring of Assassins (Chimera #2) (Paperback)
Tor Books, 9781250311023, 480pp.
Publication Date: February 4, 2020
* Individual store prices may vary.
Description
A Conjuring of Assassins is Cate Glass's second adventure with the Chimera team, a ragtag crew who use their forbidden magic for the good of the kingdom.
Romy and her three partners in crime—a sword master, a silversmith, and her thieving brother—have embraced their roles as the Shadow Lord's agents, using their forbidden magic to accomplish tasks his other spies cannot.
Now, the Shadow Lord needs them to infiltrate the home of the Mercediaran Ambassador and prevent him from obtaining information that would lead to all-out war with Cantagna's most dangerous enemy.
To succeed, they will have to resurrect long-buried secrets, partner with old enemies, and once again rely on the very magics that could get them sentenced to death.
About the Author
CATE GLASS was born and raised in Texas, and now resides in the foothills of the Colorado Rockies with her husband and three sons. She is the author of the Chimera novels (An Illusion of Thieves).
Praise For A Conjuring of Assassins (Chimera #2)…
Praise for An Illusion of Thieves:
"An Illusion of Thieves drew me in with its clever, resourceful heroine and delightful supporting cast, and kept me turning pages with forbidden magic, intrigue, and a smart and daring magical caper. I can't wait for more!" —Melissa Caruso, author of The Tethered Mage
"A treat of a story that starts off with a bang, and builds to a superb finish. Characters, setting, tension, Glass delivers that rare read that delivers on all counts." —Janny Wurts
"Intrigue and skullduggery abound in this great new read, full of misfits, betrayal, forbidden sorcery, and unexpected friendships." —Curtis Craddock
"Political intrigue, deceit, and forbidden talents...with a Mission Impossible vibe." —Booklist
"Very tense and twisty [with] a world that feels broad and deep and believable... seriously compelling." —Locus