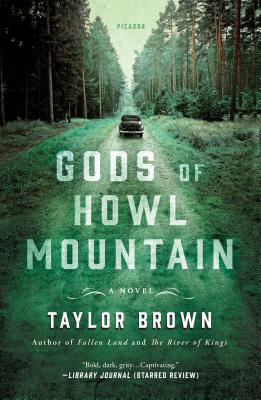 Gods of Howl Mountain
A Novel
Paperback

* Individual store prices may vary.
Other Editions of This Title:
Hardcover (3/20/2018)
MP3 CD (5/29/2018)
Compact Disc (5/29/2018)
Compact Disc (5/29/2018)
Description
A Southern Independent Booksellers Assocation Bestseller!

"A fresh, authentic, and eloquent new voice in American fiction." - Robert Morgan, New York Times bestselling author of Gap Creek

In Gods of Howl Mountain, award-winning author Taylor Brown explores a world of folk healers, whiskey-runners, and dark family secrets in the high country of 1950s North Carolina.
Bootlegger Rory Docherty has returned home to the fabled mountain of his childhood - a misty wilderness that holds its secrets close and keeps the outside world at gunpoint. Slowed by a wooden leg and haunted by memories of the Korean War, Rory runs bootleg whiskey for a powerful mountain clan in a retro-fitted '40 Ford coupe. Between deliveries to roadhouses, brothels, and private clients, he lives with his formidable grandmother, evades federal agents, and stokes the wrath of a rival runner.
In the mill town at the foot of the mountains - a hotbed of violence, moonshine, and the burgeoning sport of stock-car racing - Rory is bewitched by the mysterious daughter of a snake-handling preacher. His grandmother, Maybelline "Granny May" Docherty, opposes this match for her own reasons, believing that "some things are best left buried." A folk healer whose powers are rumored to rival those of a wood witch, she concocts potions and cures for the people of the mountains while harboring an explosive secret about Rory's mother - the truth behind her long confinement in a mental hospital, during which time she has not spoken one word. When Rory's life is threatened, Granny must decide whether to reveal what she knows...or protect her only grandson from the past.
With gritty and atmospheric prose, Taylor Brown brings to life a perilous mountain and the family who rules it.
Praise For Gods of Howl Mountain: A Novel…
"It's the characters, so wonderfully vibrant and alive in their all-too-human variety—scared, tightly wound, angry, damaged, yet resourceful and resilient, some honorable, some not—that demonstrate Brown's prodigious talent. Brown has quickly established himself in the top echelon of Southern writers, and his latest will please readers of Wiley Cash and Ron Rash." - Booklist, starred review
"In his third novel (after The River of Kings), critically acclaimed novelist Brown gazes unflinchingly at the Howl Mountain community of 1950s North Carolina…Not to be missed, this bold, dark, gritty novel is another coup for Brown, whose lyrical descriptions of the landscape only add to the captivating story of indomitable but isolated folks bound by folklore, tradition, and a hardscrabble life." - Library Journal, starred review

"Powerful...explosive...Brown's lyrical prose invokes a verdant landscape whose rich past is woven into its roots and people; their dependence on the land and respect for its great mysteries are palpable. This tale of loyalty and retribution will linger with readers." - Publishers Weekly

"The writing is strong and evocative, yielding a vivid picture whether he's describing a forest or a car chase, and there's plenty of action and intrigue. Pick up a copy of Gods of Howl Mountain and hold on. You're in for a ride you won't soon forget." - Greensboro Triad

Praise for The River of Kings:
"A literary achievement: a complex, character-driven story that's powerful in concept and execution." --Kirkus, starred review
"Drawing comparisons to James Dickey's Deliverance and Charles Frazier's Cold Mountain, Brown's impressive second novel is an intense, solidly written story of family loyalty, Southern traditions, and haunting historic landscapes." —Library Journal, starred review
Picador, 9781250311580, 304pp.
Publication Date: February 19, 2019
About the Author
TAYLOR BROWN grew up on the Georgia coast. He has lived in Buenos Aires, San Francisco, and the mountains of western North Carolina. He is the recipient of the Montana Prize in Fiction and a finalist for the Southern Book Prize. His novels include Fallen Land, The River of Kings, and Gods of Howl Mountain. He lives in Savannah, Georgia.