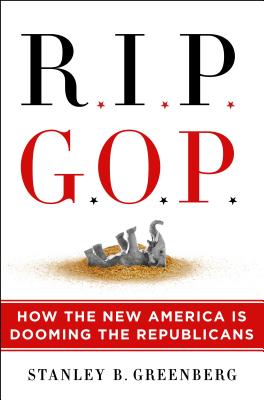 RIP GOP
How the New America Is Dooming the Republicans
Hardcover

* Individual store prices may vary.
Description
A leading pollster and adviser to America's most important political figures explains why the Republicans will crash in 2020.

For decades the GOP has seen itself in an uncompromising struggle against a New America that is increasingly secular, racially diverse, and fueled by immigration. It has fought non-traditional family structures, ripped huge holes in the social safety net, tried to stop women from being independent, and pitted aging rural Evangelicals against the younger, more dynamic cities.

Since the 2010 election put the Tea Party in control of the GOP, the party has condemned America to years of fury, polarization and broken government. The election of Donald Trump enabled the Republicans to make things even worse. All seemed lost.

But the Republicans have set themselves up for a shattering defeat.

In RIP GOP, Stanley Greenberg argues that the 2016 election hurried the party's imminent demise. Using amazing insights from his focus groups with real people and surprising revelations from his own polls, Greenberg shows why the GOP is losing its defining battle. He explores why the 2018 election, when the New America fought back, was no fluke. And he predicts that in 2020 the party of Lincoln will be left to the survivors, opening America up to a new era of renewal and progress.
Praise For RIP GOP: How the New America Is Dooming the Republicans…
"When Stan Greenberg says, America is at a turning point, you know he's conducted hundreds of surveys and listened to real people and their aspirations like no one else. In RIP GOP, he offers a framework for understanding this current battle for our values and country that no one else has been brave enough to write. Because he is betting on the new, multi-cultural America defending its values and defeating the Donald Trump's Republican Party, I am betting Stan Greenberg has it right." – U.S. House Speaker Nancy Pelosi

"Provocative, insightful and deeply personal — RIP GOP shows how Republicans weaponized hatred, sexism and bigotry to hijack the Oval Office. Through vivid detail and analysis, backed up by hard data, Stan Greenberg outlines a blueprint for the New American majority to destroy the rigged system that made Donald Trump possible as he offers the hope that we can create an America that builds opportunity for everyone, not just the wealthy and the well-connected." —Senator Elizabeth Warren

"In these trying times, Greenberg gives us rational cause to be optimistic about the victory of a progressive New America. Engrossing, thoughtful, and carefully reasoned." —Robert B. Reich

"It took a man with five college degrees who has elected five of the most amazing leaders in the world to write a book that makes sense of this screwed up country. It is convincing." —James Carville

"Methodically and meticulously researched...Greenberg predicts that the rage engendered by Donald Trump will lead to his defeat in 2020, Democratic control of the Senate and the collapse of the current Republican party. Imagine the past midterms on steroids." —The Guardian
Thomas Dunne Books, 9781250311757, 336pp.
Publication Date: September 10, 2019
About the Author
STANLEY B. GREENBERG is the coauthor of the New York Times bestseller It's the Middle Class, Stupid! and polling adviser to presidents, prime ministers, and CEOs across the globe. He lives in Connecticut and Washington, D.C., with his wife, Rep. Rosa DeLauro (D-CT).
or
Not Currently Available for Direct Purchase