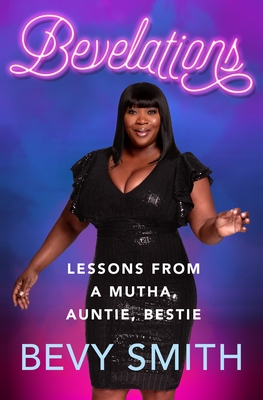 Bodacious Dreams and Bevelations (Hardcover)
Andy Cohen Books, 9781250311788, 240pp.
Publication Date: September 8, 2020
* Individual store prices may vary.
Description
Bevy Smith tells the story of her amazing metamorphosis—an irreverent, inspirational tale of how she tore her life down and started all over

Not your typical candidate for a midlife crisis, Bevy Smith had what seemed like a fantastic life and career. As a fashion and beauty editor at Vibe, and then Rolling Stone, she traveled to Paris six times a year for fashion shows and was seen at every hot spot. She was a shopaholic with discounts at every store, and all her lovers were well hung men of color. So it came as quite a shock to her when one day, after a Mercedes had dropped her off at her luxury Milan hotel, Bevy collapsed on the Frette sheets of her king-sized bed and sobbed.
After that, she resigned from Rolling Stone and set out on her own path, one that she carved from a tremendous amount of self-reflection and, ultimately, clarity. Going from a $350K annual salary to about $35K would have most running back to corporate America, but not Bevy. With renewed self-confidence and acceptance, she embraced this season as one of the most creative times of her life.
In her signature lively and infectious voice, Bevy provides her story as an example of how we too can manifest our biggest dreams. From reclaiming her bold childhood nature and realizing she'd become a Googleable star to envisioning where's she's headed next (Malibu Bevy, with natural hair, a huge charitable organization, and a midcentury house overlooking the Pacific Ocean), Bevy shows how each of us can live our best lives with honesty and joy.
About the Author
Bevy Smith is the former co-host of the entertainment news show, Page Six TV, and the host of Sirius XM's Bevelations on Radio Andy. She is a beloved motivational speaker, brand ambassador, pop culture aficionado, television personality, and business woman. Quintessential Harlem girl and lifelong New Yorker, Bevy was born, raised, and still lives in Harlem, New York.
or
Not Currently Available for Direct Purchase