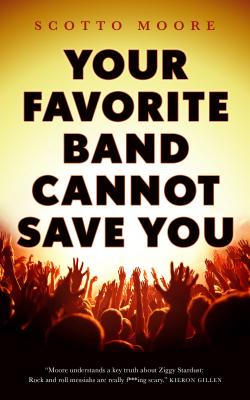 Your Favorite Band Cannot Save You
Paperback

* Individual store prices may vary.
Description
Your Favorite Band Cannot Save You is a story of music, obsession, violence, and madness by Scotto Moore

I was home alone on a Saturday night when I experienced the most beautiful piece of music I had ever heard in my life.

Beautiful Remorse is the hot new band on the scene, releasing one track a day for ten days straight. Each track has a mysterious name and a strangely powerful effect on the band's fans.

A curious music blogger decides to investigate the phenomenon up close by following Beautiful Remorse on tour across Texas and Kansas, realizing along the way that the band's lead singer, is hiding an incredible, impossible secret.
Praise For Your Favorite Band Cannot Save You…
"Scotto Moore understands a key truth about Ziggy Stardust: Rock and roll messiahs are really fucking scary." —Kieron Gillen

"A wickedly clever amalgam of science fiction, horror, and contemporary music that makes one reconsider whether Ziggy Stardust's arrival here on Earth might not, in fact, be such a good thing... I could have read Your Favorite Band Cannot Save You in one sitting, but I stretched it over two nights because I couldn't bear for it to end... Buy this book." —Elizabeth Hand in Fantasy & Science Fiction Magazine

"Absolutely stunning. A fast-paced, psychedelic blur of music, tech, and things way beyond either. I picked it up, and it simply would not let me go until the final page was read." —Ramez Naam

"A lean, quick read with no fat. The clever, exciting story mixes weird fiction with an engaging and mysterious plot." —Library Journal

"My fave [book] of the new year... wherein a real life, superbly malevolent, female Ziggy Stardust hits the road with her band and wreaks havoc. Hilarious & eerie as hell." —Elizabeth Hand

"Moore writes with a playful jauntiness that buoys the growing darkness rather than undercutting it. His details about a certain subset of music nerds give the story some great texture... the ride is a fun one and the soundtrack is killer." —Locus
Tordotcom, 9781250314901, 128pp.
Publication Date: February 5, 2019
About the Author
SCOTTO MOORE is a Seattle playwright, whose works include the black comedy H.P. Lovecraft: Stand-up Comedian!, the sci-fi adventures Duel of the Linguist Mages and interlace [falling star], the gamer-centric romantic comedy Balconies, and the a cappella sci-fi musical, Silhouette. He is the creator of The Coffee Table, a comedic web series about a couple that discovers their new coffee table is an ancient alien artifact that sends their house shooting through the void. He is also behind the popular Lovecraft-themed meme generator, Things That Cannot Save You ("a catalog of your doom"), which spawned his novella, Your Favorite Band Cannot Save You.