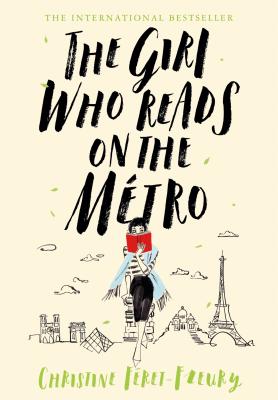 The Girl Who Reads on the Métro
A Novel
Hardcover

* Individual store prices may vary.
Description
"With a cast of characters reminiscent of the French film Amélie, Féret-Fleury creates a world that is delightful and enchanting…Light and sweet as a bonbon, this little confection of a book is delicious." —Kirkus Reviews

For fans of Amélie and The Little Paris Bookshop, a modern fairytale about a French woman whose life is turned upside down when she meets a reclusive bookseller and his young daughter.

Juliette leads a perfectly ordinary life in Paris, working a slow office job, dating a string of not-quite-right men, and fighting off melancholy. The only bright spots in her day are her métro rides across the city and the stories she dreams up about the strangers reading books across from her: the old lady, the math student, the amateur ornithologist, the woman in love, the girl who always tears up at page 247.

One morning, avoiding the office for as long as she can, Juliette finds herself on a new block, in front of a rusty gate wedged open with a book. Unable to resist, Juliette walks through, into the bizarre and enchanting lives of Soliman and his young daughter, Zaide. Before she realizes entirely what is happening, Juliette agrees to become a passeur, Soliman's name for the booksellers he hires to take stacks of used books out of his store and into the world, using their imagination and intuition to match books with readers. Suddenly, Juliette's daydreaming becomes her reality, and when Soliman asks her to move in to their store to take care of Zaide while he goes away, she has to decide if she is ready to throw herself headfirst into this new life.

Big-hearted, funny, and gloriously zany, The Girl Who Reads on the Métro is a delayed coming-of-age story about a young woman who dares to change her life, and a celebration of the power of books to unite us all.
Praise For The Girl Who Reads on the Métro: A Novel…
"This quirky little novel is part fable, part romance, and wholly a love letter to books…It's a fairy tale. But it's charming to read, and its central theme—that books can change lives—is indisputable and satisfying." —Minneapolis Star Tribune

"With a cast of characters reminiscent of the French film Amélie, Féret-Fleury creates a world that is delightful and enchanting…Light and sweet as a bonbon, this little confection of a book is delicious." —Kirkus Reviews

"Will speak to fans of Nina George and Kate Atkinson, and any reader who loves getting lost in a secondhand bookshop. The author's love of the written word comes through on every page…This ode to finding the right book at the right time comes with its own suggested reading list for those hoping to widen their literary horizons." —Booklist (starred review)

"A life-affirming novel for our times about the transformative power of literature and the bonds people forge through their mutual love of books. It appeals both to the reader's heart and soul." —The Bookseller

"A delightful novel." —Madame Figaro

"An enchanting story made of literary references that would convince anyone to become a reader, even the most reluctant ones." —Avantages
Flatiron Books, 9781250315427, 192pp.
Publication Date: October 8, 2019
About the Author
Christine Féret-Fleury is an author based in France. The Girl Who Reads on the Métro is her first book to be translated into English and is being published around the world.
1. Discuss Soliman's claim that "each book is a portrait and it has at least two faces…The face of the person who gives it, and the face of the person who receives it." What can books reveal about us, either as giver or receiver? Discuss an example from your own life.
2. Soliman's word for his employees is "passeurs," which for Juliette connotes World War II: "hazy shapes bent double running through tunnels or crawling under barbed wire as the passeurs smuggled Jews out of the German-occupied zone to safety, young women on bicycles carrying Resistance pamphlets in their saddlebags." Why do you think he chose that word? What might Soliman and his employees have in common with wartime passeurs?
3. Soliman's bookstore is inspired by BookCrossing, a program developed in 2001 by Ron Hornbaker to "turn the world into a library": "You leave a book in a public place—a station, park bench, cinema—someone picks it up, reads it, then releases it elsewhere a few days or weeks later." Had you heard of BookCrossing before reading this novel? What do you think of the idea?
4. Juliette tells Chloe she is selling her real estate clients "an illusion." Chloe replies: "No, a dream. And I help them imagine themselves in better future." What is the difference between an illusion and a dream? Is there truth in both of their statements?
5. Leonidas says that reading about a character in the book is "perhaps the best" way of getting to know someone. Do you agree? What does a book offer that real life can't, and vice versa?
6. Juliette loves that second-hand books have a story of their own, "separate from the one they told—a parallel story, hazy, secret." What does she mean? How does that other story manifest itself? What can you learn about past readers in the pages of a used book.
7. Juliette notices that the woman reading love stories on the Métro always cries on page 247. She asks Soliman why, and he explains, "On page 247, all seems lost. It's the best moment, you know." What does he mean?
8. Juliette ponders: "Should you…travel to the countries you'd loved in books? Did those countries exist in reality?" What do you think? What might be lost or gained on such a trip?
9. Firouzeh tells Soliman, "life isn't an almond, you won't find the best of it by removing the shell and then the skin. But he persisted. That's how he was. He went out less and less; he stayed shut up in one room all day long." In turning away from the world and toward books, what does he miss out on? Conversely, how might his life be enriched?
10. Discuss Firouzeh's description of exile: "I was no longer complete, and I didn't want to inflict that on Zaide. This emptiness, this anxiety, this 'nothingness' that I couldn't shake off." Do you sympathize with her decision to separate herself from her daughter? What does this novel have to say about immigration and belonging?
11. Firouzeh tells Juliette: "Normal. I've never understood the meaning of the word." What does she mean? Do you agree?
12. Juliette asks Leonidas, "Isn't it better to give away a book one loves?" What do you think? Do you tend to hold on to your favorite books or give them away? Why?
13. During her time as a passeur, Juliette becomes convinced "that all the world's diseases—and all the remedies—were concealed between the covers of books… In books you found betrayal, solitude, murder, madness, rage—everything that could grab you by the throat and ruin your life, not to mention others' lives, and that sometimes crying over printed pages could save a person's life." How is Juliette herself changed by books? What do you think the future holds for her? Discuss a book that changed you in a fundamental way.
14. Which three books would you be sure to take in your own "Yellow Submarine"?