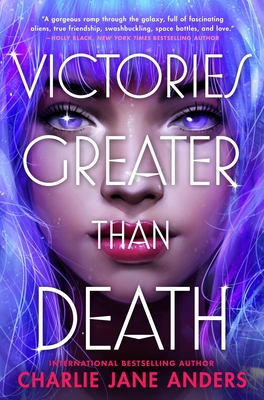 Victories Greater Than Death (Unstoppable #1)
Hardcover

* Individual store prices may vary.
Description
From internationally bestselling author Charlie Jane Anders (All the Birds in the Sky) comes Victories Greater Than Death, first in the thrilling adventure Unstoppable series, set against an intergalactic war—Anders's long-awaited YA debut.

THE UNIVERSE IS CALLING—and time is running out.

Tina has always known her destiny is outside the norm—after all, she is the human clone of the most brilliant alien commander in all the galaxies (even if the rest of the world is still deciding whether aliens exist). But she is tired of waiting for her life to begin.

And then it does—and maybe Tina should have been more prepared. At least she has a crew around her that she can trust—and her best friend at her side. Now, they just have to save the world.
Praise For Victories Greater Than Death (Unstoppable #1)…
Praise for Victories Greater Than Death
"Charlie Jane Anders has a rich and delicious talent—and a wickedly funny voice that the world really needs right now." —LeVar Burton, Reading Rainbow, Roots, Star Trek

"Victories Greater Than Death is a gorgeous romp through the galaxy, full of fascinating aliens, true friendship, swashbuckling, space battles, and love." —Holly Black, New York Times bestselling author

"A stunning, strange, and highly entertaining novel, one I hope ushers in a new wave of YA science fiction." —Mark Oshiro

"I loved it, so much fun - you have more ideas in a paragraph than most people put in an entire book [and] a fun spaceship adventure. Wonderful work!" —Javier Grillo-Marxuach, writer and co-executive producer of The 100

"Victories Greater Than Death bursts off the page, brimming with life, love, humor and adventure. It's Charlie Jane Anders's galaxy, we just live in it." —Amie Kaufman, The Illuminae Files, The Aurora Cycle.

"A story of enduring friendship, fighting for what's right, and the complications of claiming destiny-- an effervescent, fast-paced journey through the stars." —Veronica Roth, author of the Divergent series and Chosen Ones.

"It's properly, wickedly exciting - I devoured it! How Anders packs so much power and energy into her prose is astonishing. These characters - and the adrenalin, the sheer excitement- will live on in my head long after the last page. Glorious. And the most amazing thing of all is her imagination - to think of a new evil superpower for a villain should be impossible. Completely impossible. Everything's been done, every sodding thing. Until this arrives. Dazzling. Horrifying. GENIUS. A beautiful book. I loved it, can you tell?!" —Russell T. Davies

Praise for Charlie Jane Anders and The City in the Middle of the Night

The City in the Middle of the Night has been nominated for a 2019 Hugo in the Best Novel category

"Charlie Jane Anders' imagination is one of the most vital in science fiction." —Brian K. Vaughan

"A stunning novel." —Edan Lepucki, author of Woman No. 17

"Wildly inventive." —Audrey Niffenegger, author of The Time Traveler's Wife

"Like a classic from another timeline… This book has notes of Ursula K. Le Guin and Philip Pullman." —Robin Sloan, author of Mr. Penumbra's 24-Hour Bookstore

"I highly recommend [it]." —Anthony Rapp, Broadway star

"I f—ing love this book. It is really, really breathtaking."—Daveed Diggs, Grammy and Tony Award-winning actor
Tor Teen, 9781250317315, 288pp.
Publication Date: April 13, 2021
About the Author
Charlie Jane Anders is the author of Victories Greater Than Death, the first book in a new young-adult trilogy coming in April 2021, along with the forthcoming short story collection Even Greater Mistakes. Her other books include The City in the Middle of the Night and All the Birds in the Sky. Her fiction and journalism have appeared in the New York Times, the Washington Post, Slate, McSweeney's, Mother Jones, the Boston Review, Tor.com, Tin House, Conjunctions, Wired Magazine, and other places. Her TED Talk, "Go Ahead, Dream About the Future" got 700,000 views in its first week. With Annalee Newitz, she co-hosts the podcast Our Opinions Are Correct.